THIS POST INCLUDES:
1. What is a Marketing Strategy
2. Know Your Marketing Cycle
3. Develop Your Business Goals
4. Develop Your Marketing Strategy
5. Implement Your Marketing Strategy
6. Free Download Your Marketing Cycle Worksheet
WHAT IS A MARKETING STRATEGY
A marketing strategy establishes your goals to promote your business and helps you create the blueprint to help achieve those goals. Developing a marketing strategy will help you identify the strengths and weaknesses of your therapy business with a view to successfully marketing to your ideal client.
Your marketing strategy provides you with the opportunity to communicate the benefits of your therapy business to your target market.
Once your marketing strategy is defined you will have a clear view of:
The financial budget required for investment
The marketing assets you need (advertising content)
The advertising platforms you will use
The demographics of your clients
The time investment required to market your business
External resources you may need to hire
Important metrics for evaluation
Establishing a marketing strategy gives you control over the message you wish to convey about your business. A marketing strategy also allows you more control over the necessary monetary and personal time investment that is required in marketing your business.
These important components define your marketing strategy:
Business goals – income, customers, product development, and growth goals
Marketing goals – increase client bookings, promote physical or digital products
Market research – understanding demographics of your location and interest level in your services/products
Customer profile – understanding the personal demographics and specific mental health requirements of your clients
KNOW YOUR MARKETING CYCLE
In a previous blog post, we explored the marketing cycle. You can read this blog post here: Understand the Marketing Cycle of Your Art Therapy Practice 
The marketing cycle can be defined in 3 stages:
Getting attention
Positioning
Selling
Within each of these stages, you will focus on marketing a specific part of your therapy business. These vital parts to your business include:
Marketing you
Marketing your services/products
Attracting your customer
Selling your services/products
Customer retention
Measure and evaluate your marketing efforts
DEVELOP YOUR BUSINESS GOALS
Before developing your marketing strategy you should have a clear understanding of your business goals. These business goals can include anything you wish to achieve in your business on a financial, professional and personal level.
Some of the basic business goals you should explore include:
Your desired level of income
Who is my ideal customer/client?
The types of services you want to provide
The types of products you wish to create that would benefit your client. What is something you notice in therapy that your clients could use outside of therapy to help them?
Once you've established these main goals you can begin to develop a marketing strategy that will support the execution of these goals.
The table contains sample information as an example:
DESIRED INCOME                    IDEAL CUSTOMER                                                     MY SERVICES
60% of income                         Women and children with trauma issues           Individual sessions
30% of income                         Grief support                                                             Group sessions
10% of income                         Conferences                                                               Public speaking
Use this table as a guideline to define your business goals. Remember when you are creating your business goals that you should focus on the skills and expertise that you can offer potential clients.
DEVELOP YOUR MARKETING STRATEGY
Now that you've established your main business goals you can analyze each goal and develop a strategy that will help support those goals.
KEEP IT SIMPLE
It is easy to get overwhelmed at this stage in trying to develop a clear strategy. You might think you need to try every possible idea that you have. The best approach, however, is to keep a clear vision of who your client is and what they need to help address their problem.
Your client is constantly looking to address these primary concerns:
Will this service/product help address my problem
Can I easily access this service/product
ETHICAL MARKETING
Psychological services have a unique position with regard to marketing services and products. The marketing must be done ethically with the understanding your potential client is in a vulnerable position.
You may belong to a professional organization that provides guidelines and regulations around advertising for your services, therefore you should check your marketing meets with their guidelines.
In addition to professional organisations, you may be regulated by government requirements on how you market your services.
In Australia, the Australian Competition and Consumer Commission (ACCC) and the Therapeutic Goods Administration (TGA) regulate the advertising of health products and services. Your country will have its own regulatory bodies.
Most organisations suggest the below basic guidelines for ethical marketing:
Refrain from false, misleading or deceptive advertising
Do not offer gifts, discounts or other enticements to persuade your potential client to engage in your services or
additional services
State the terms of your services clearly
Refrain from using testimonials for your services (results always vary in therapy)
Do not create an unreasonable expectation of a "cure" or benefits of treatment
Do not oversell your therapy skills
BASIC MARKETING STRATEGY
To establish a marketing strategy we've created a table below using the four core business goals previously mentioned.
DESIRED INCOME                    IDEAL CUSTOMER                                                     MY SERVICES
60% of income                         Women and children with trauma issues           Individual sessions
30% of income                         Grief support                                                             Group sessions
10% of income                         Conferences                                                               Public speaking
Based on the above business goals, the key issues to address in your marketing strategy are:
Marketing for women with trauma issues (individuals)
Marketing for children with trauma issues (individuals)
Marketing for clients experiencing grief (group support)
Marketing for public speaking opportunities at conferences
Now that you've defined your core groups, your marketing strategy should focus on where you would find opportunities to expose your art therapy practice name to these different clients.
These opportunities should include both offline and online opportunities. Offline opportunities usually include referrals and using professional networks. Online opportunities can also include referrals and professional networks as well as using social media platforms.
IMPLEMENT YOUR MARKETING STRATEGY
Once you've defined the best offline and online marketing opportunities to find your ideal client you can start to create a more detailed marketing plan which will include:
Client demographics (age, gender, location)
Advertising material – graphics, copywriting, budget
Referrals to connect with
Professional networks to connect with or advertise
Using the previously mentioned business goals, your marketing plan will be similar to the art therapy services provided to women, children and grief support groups. Your marketing should include your specific skills and the services you offer at your practice including types of payment, operating hours and access to your practice. These are all important considerations for potential clients.
When marketing your services to organisations who facilitate conferences, your marketing strategy will be based on marketing your professional skills, expertise and accomplishments. Your marketing strategy will be based on direct contact with specific organisations.
Based on the example business goals in this post, it is important to keep in mind that the income goals are split differently:
60% – Individual sessions women and children
30% – grief support group
10% – public speaking
If you have limited time and financial resources, you should aim to focus on the service that will deliver you the most income. Once you are confident you have implemented an effective marketing plan for the highest income stream, you can then focus on the second highest income stream and so on.
It is important to constantly assess the effectiveness of your plan based on the response to your marketing and make changes where necessary in your advertising material and your marketing platforms.
You should also remain flexible with your goals and plan. For example, in the business goals previously mentioned, it's possible another art therapy service in your area starts to offer sessions for grief support groups. If this starts to impact your support group service, you can change your service to individual sessions or include additional materials or benefits for groups.
Your marketing strategy should always be adapting to the changing environment to ensure your services stay relevant to what potential clients need.
Before diving into developing your marketing strategy, you might want to read our article about your marketing cycle: Understand the Marketing Cycle of Your Art Therapy Practice
FREE DOWNLOAD: Marketing Cycle Worksheet
SIGN UP below to download the FREE Marketing Cycle Worksheet.
Use the worksheet guide to establish a marketing strategy for your therapy practice. Complete the sections to help guide you through the stages of your marketing cycle. Use this blog post to help understand each stage of the marketing cycle process.
Download the FREE Marketing Cycle Worksheet.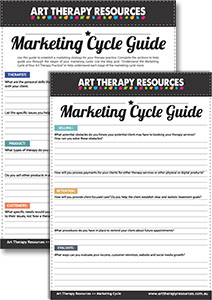 BUILD YOUR ART THERAPY REFERENCE MATERIALS:
Pin this image to your Pinterest board.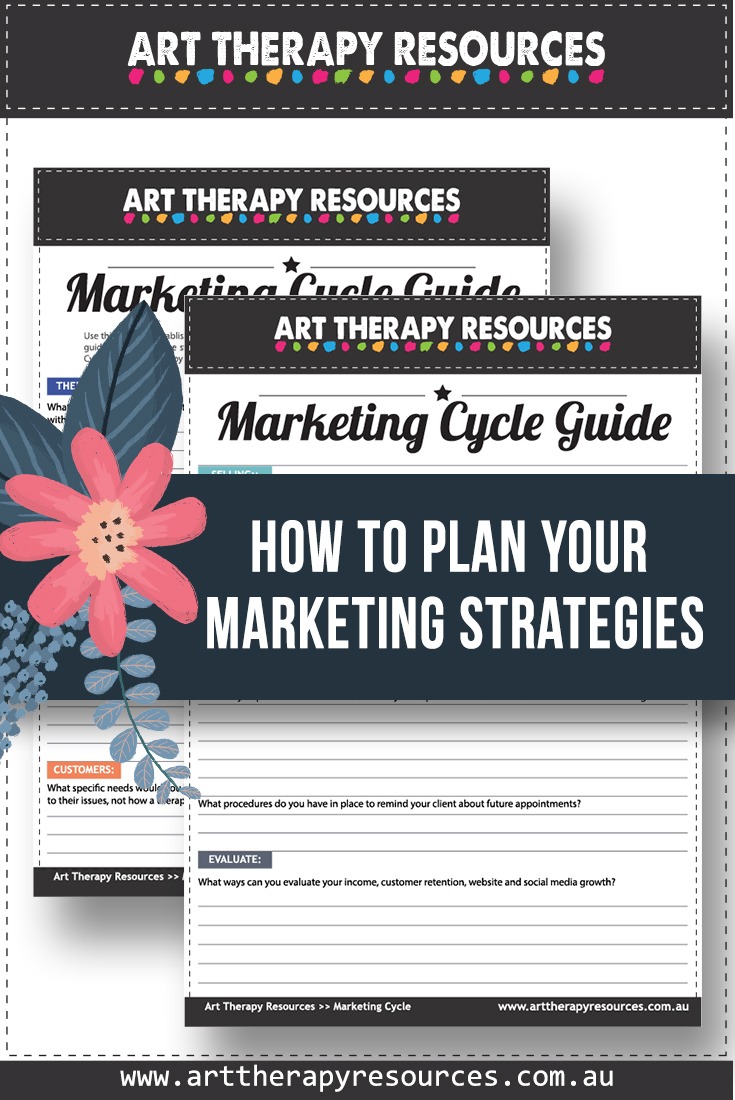 SHARE KNOWLEDGE & PASS IT ON:
If you've enjoyed this post, please share it on Facebook, Twitter, Pinterest. Thank you!