THIS POST INCLUDES:
1. Create a newsletter structure
2. Gathering newsletter content
3. Storing newsletter content
4. Free Download Email List Checklist
CREATE A NEWSLETTER STRUCTURE
A newsletter is one way you can communicate with your clients and potential clients. A newsletter provides you with a way to talk about your art therapy practice and provide information that your readers may find beneficial.
To read more content on how to plan, create, and send a newsletter, check out our previous blog post: How to Create a Monthly Art Therapy Newsletter.
Creating a newsletter structure involves several key steps to ensure that the final product is organized, visually appealing, and effective in conveying your message to your target audience. Here are some general steps to follow:
Determine your audience: Identify the target audience for your newsletter, and create content that is relevant and valuable to them. Your audience should inform the tone and style of your newsletter as you adapt your message to suit your audience.
Choose a format: Decide on a format for your newsletter. Will it be in a traditional newsletter format or a more modern design? You may wish to include information about your practice and the approach that you take to therapy. You may also decide to include actionable steps that your reader can take in their own lives (be aware of ethical obligations). Your format choice will impact the layout and structure of your newsletter.
Create a layout: This will include a header with your logo, the name of your newsletter, and the date. Your newsletter layout should be consistent with your website to help establish brand recognition.
Identify content sections: Break your content into sections that are easy to read and navigate. Consider including sections such as a feature story, news and updates, upcoming events, tips and tricks, and testimonials.
Include images and visuals: Incorporate high-quality images and graphics to help break up the text and make your newsletter more visually appealing. Make sure the images are relevant to your content and fit your brand.
Create a call-to-action: Encourage your readers to take action by including a call-to-action (CTA) in your newsletter. This could be signing up for an event, contacting your office for therapy services, or sharing the newsletter with friends.
Include contact information: Make sure to include your contact information, such as your email address and website, in your newsletter. This allows readers to easily reach out to you with questions or feedback.
Creating a newsletter structure involves organizing your content in a clear and concise manner, making it visually appealing, and including a call-to-action that helps to stay connected to your reader.
GATHERING NEWSLETTER CONTENT
You can choose to create your newsletter content directly in your email provider as you go, however, you will need internet access at all times whenever you choose to work on your newsletter. You also run the risk of losing any information you've added if you suddenly lose your internet connection before saving.
The best approach is to create your newsletter content offline in word processing software or through software such as Evernote and Scrivener. This means you can work offline and easily access old content to include in future newsletters.
The most efficient way to use a newsletter in your business is to create a master template that will form the basis of the information that you wish to convey to your readers each week or month.
Before you send your first newsletter, you should spend some time planning the general layout of your newsletter and the type of content that you want to include each month.
Collecting resources for your newsletter is a vital part of creating your newsletter. Gathering your resources in one central location ensures you can access information at all times and ensure a consistent flow of content that will keep your readers engaged.
Below are some useful tips on gathering content for your newsletter:
Set up alerts and notifications: Use tools like Google Alerts or social media notifications to stay up-to-date with the latest news and updates in your industry. You can set up specific keywords and phrases to receive notifications when relevant content is published.
Follow industry leaders: Identify industry leaders and follow their social media accounts, blogs, and newsletters. They often share valuable content and insights that can spark inspiration for content you can create in your newsletter.
Leverage your network: Reach out to colleagues and other partners to see if they have any content they would like to contribute. This could be a guest blog post, a testimonial, or an event announcement.
Conduct interviews: Conduct interviews with industry experts or people with unique perspectives that align with your newsletter's theme. You can use these interviews as a feature story or as a quote in an article.
Repurpose content: Look for ways to repurpose content that you have already created, such as turning a blog post into a newsletter article, or creating an infographic based on research you have conducted.
Monitor social media: Monitor social media for trending topics and conversations related to your industry. You can use these insights to inform the content you create for your newsletter.
Once you have established your methods of finding content for your newsletter, set up a system in your email or software that helps you store the content that you want to use in your newsletter.
One example could be receiving alerts for a research topic such as anxiety. You can set up sections in your system to store all of the alerts you receive and then create tags and labels for that content so you can search for it later.
Most programs such as Evernote, Scrivener, and email programs provide features that help you manage information so that you can easily find it and access it in the future.
STORING NEWSLETTER CONTENT
Storing your newsletter content is important for keeping your content organized and easily accessible for future reference. Keeping your newsletter content organised helps you recall what content you have shared in the past. You can also use past information to help create content for future newsletters. Storing your newsletter content in an organised manner will also help you repurpose previous content for any future projects such as workbooks or blog posts for your website.
Below are some tips for storing your newsletter content:
Use a data collection system: your data system will act as a central collection point for saving content and writing your newsletter content for publishing. Your system should ideally provide you with access both online and offline so you can access your content at any point. Examples include Evernote and Scrivener.
Create a content calendar: Use a content calendar to plan and schedule your newsletter content in advance. This can help you keep track of your content and ensure that you have a consistent flow of content for your newsletter.
Use cloud storage: Cloud storage services such as Google Drive or Dropbox can help you store your newsletter content in a secure and accessible location. This also allows you to easily collaborate with team members or contributors.
Label and tag content: Use labels and tags to categorize and organize your newsletter content. This can help you quickly find and retrieve specific pieces of content when needed.
Back up your content: Regularly back up your newsletter content to ensure that it is not lost in the event of a technical issue or system failure. You can use services such as Google Drive or Dropbox to create automatic backups.
Use version control: Use version control to keep track of changes made to your newsletter content. This can help you ensure that you are using the latest version of a piece of content and avoid any potential confusion or errors.
By following these tips, you can store your newsletter content in a way that is organized, accessible, and secure. This can help you create and deliver high-quality content for your newsletter.
SIGN UP below to download the FREE 10 Tips to Build an Email list. 
Once you sign up to our newsletter, you will gain access to our resource library with all our FREE DOWNLOADS.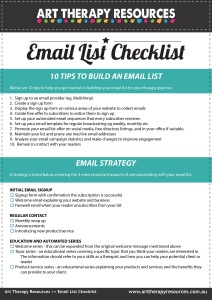 BUILD YOUR ART THERAPY REFERENCE MATERIALS:
Pin this image to your Pinterest board.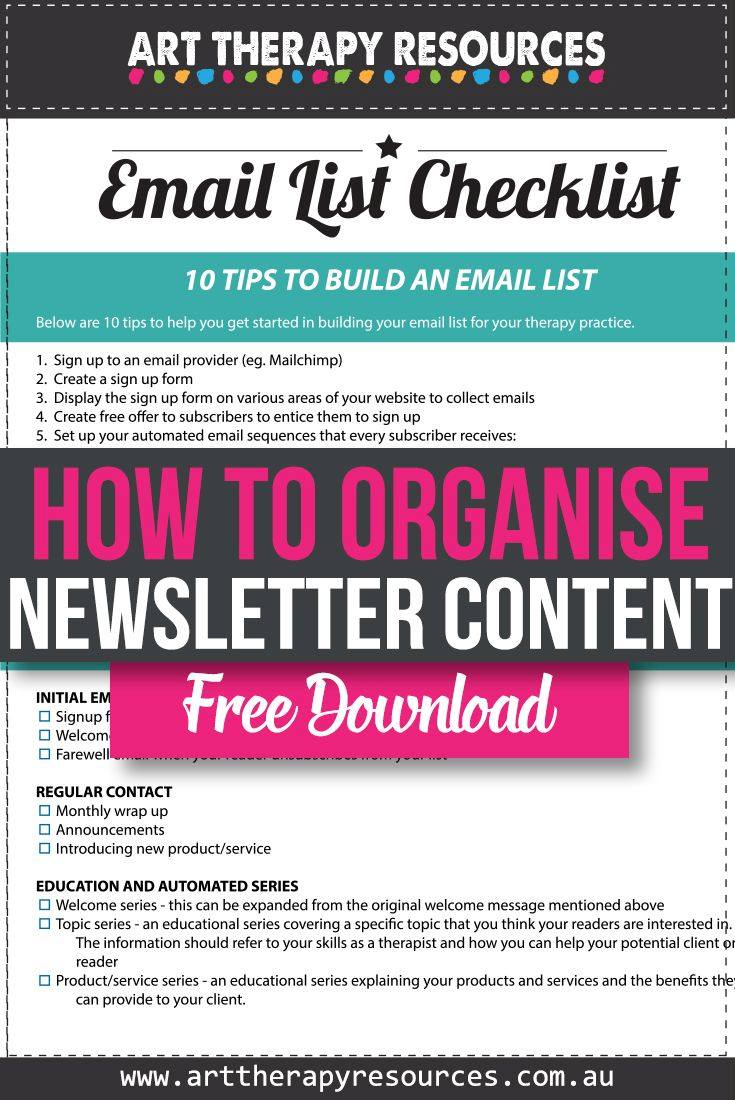 SHARE KNOWLEDGE & PASS IT ON:
If you've enjoyed this post, please share it on Facebook, Twitter, Pinterest. Thank you!