THIS POST INCLUDES:
Art Therapy and Fatigue
About the Client
Current Client Issues
Art Therapy Exercise
Client Insight and Outcomes
Disclaimer
FREE DOWNLOAD Art Therapy Exercise
Fatigue is generally considered as a diminished physical or mental capacity. As fatigue develops, an individual is more likely to make errors of judgment due to the disruption of attention that fatigue causes.
Within a mental health capacity, fatigue and stress interact closely to create dysfunction in both thinking and behavioural decisions. While anxiety and stress may precede fatigue, often fatigue will cycle around to cause anxiety and stress as dysfunctional consequences occur.
Most of us may experience a sleepless night or activity packed day and this can make us feel tired, exhausted and run down. This feeling is usually short lived and can be quickly remedied through rest.
Fatigue relates to a more enduring level of tiredness and exhaustion and is characterised by its effect on an individual's ability to perform.
REASONS FOR FATIGUE
A number of common reasons for the occurrence of fatigue include:
Mental exhaustion from conflict
Mental fatigue from disorder – depression and anxiety
Tiredness from lack of sleep – worry and anxiety
Physical illness – eg cancer treatments, viruses, surgery
Chronic pain condition
Recovery from accident
Shift work
Significant disruption to routine
CHARACTERISTICS OF FATIGUE
A number of common characteristics can be found in individuals who are experiencing fatigue:
Tiredness despite getting sleep
Slower reflexes
Short term memory disruption
Inability to concentrate
Impaired vision
Desire to sleep outside of normal bed times
Physical aches and pains
HOW ART THERAPY CAN HELP WITH FATIGUE
Art therapy can help clients who are experiencing issues with fatigue. As fatigue represents a primary physical experience, art therapy can benefit an individual in a similar process as medical art therapy. This is especially relevant in reducing symptoms of anxiety and depression and encouraging coping skills.
Aside from the physical aspect of fatigue, art therapy can also help the individual explore the history and triggers behind the fatigue occurring.
Art therapy can explore feelings of loss through art which may have occurred as a result of ongoing fatigue. Art therapy can also help clients explore frustrations with the physical experiences and limitations that occur as a result of fatigue.
Name: Olivia
Age: 33
Summary of sessions to date: Olivia has been diagnosed with Chronic Fatigue Syndrome (CFS) and had been attending art therapy sessions to help improve her overall mood and acceptance of her situation.
Olivia discussed with her art therapist the issue of fatigue and how it affected her ability to do anything meaningful with her day. She also felt she was disappearing from her social circle as she was usually too tired to attend social events, especially at night. If Olivia did attend events she would get anxious about how she would handle the event and be able to socialize with her friends.
This art therapy is designed to help the client develop insight into the cycle of biological, psychological, and social influences that affect emotions, thoughts, mood, and physical wellbeing.
INSTRUCTIONS:
Ask the client to reflect on an incident or situation that was impacted by their physical limitations such as fatigue.
Ask your client to identify the primary emotion that arises as they recall this situation. How did their physical limitation (fatigue) impact their experience of the situation. Did the fatigue prevent the client from participating?
Was the client excluded and rejected in the situation because of their physical limitations?
Ask the client to create an artwork that reflects the impact that fatigue has on the client's life. This could include aspects that are related to biological, psychological, or social aspects of the client's life.
SUPPLIES USED INCLUDE:
CLIENT INSIGHT AND OUTCOMES
From the art exercise, Olivia was able to give a physical form to fatigue and see the impact it has on her social life through the artwork she created. This insight helped Olivia see the fatigue as a physical symptom and not a reflection of her personality. From this, Olivia was able to see the fatigue as something separate from herself.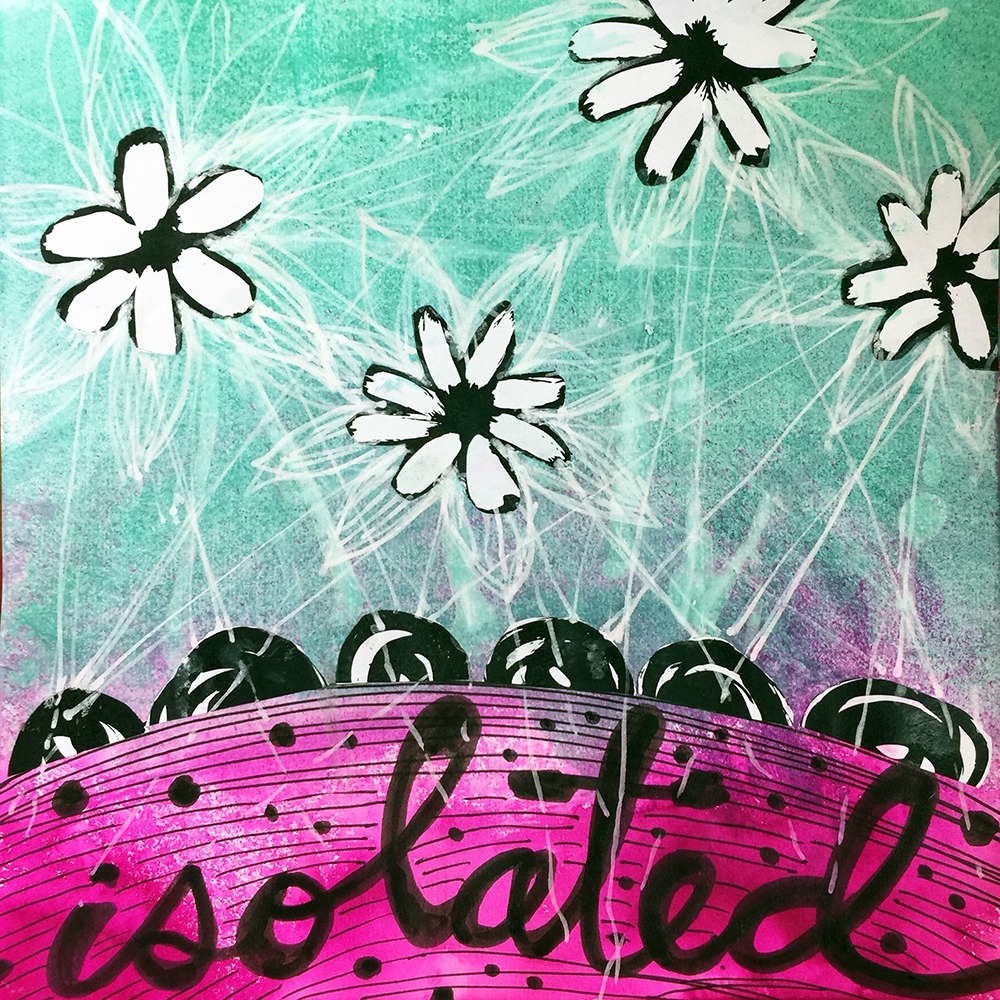 This case study represents a snapshot of the client's progress in treatment. The exercise in this article could be used as written or as a guide for new and original tasks developed by the Art Therapist. Responsibility for treatment resides with the individual therapist who understands their clients specific needs. The art therapy exercise should not be viewed as a pre-defined directive on how to treat a client that presents with a specific range of problems.This art therapy exercise will help build a database of knowledge to draw upon when helping your client. Art Therapy is associated with psychotherapy techniques, however each therapist often approaches therapy with their own foundation of psychological interventions, whether it be psychotherapy, CBT, DBT or other methods. 
FREE DOWNLOAD: Art Therapy Exercise
Download the FREE Art Therapy Exercise based on the above Case Study. The free download includes instructions for the art therapy exercise, along with an example of the art therapy exercise.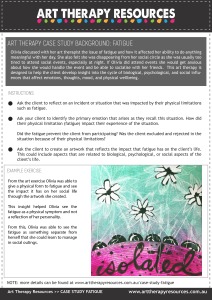 BUILD YOUR ART THERAPY REFERENCE MATERIALS:
Pin this image to your Pinterest board.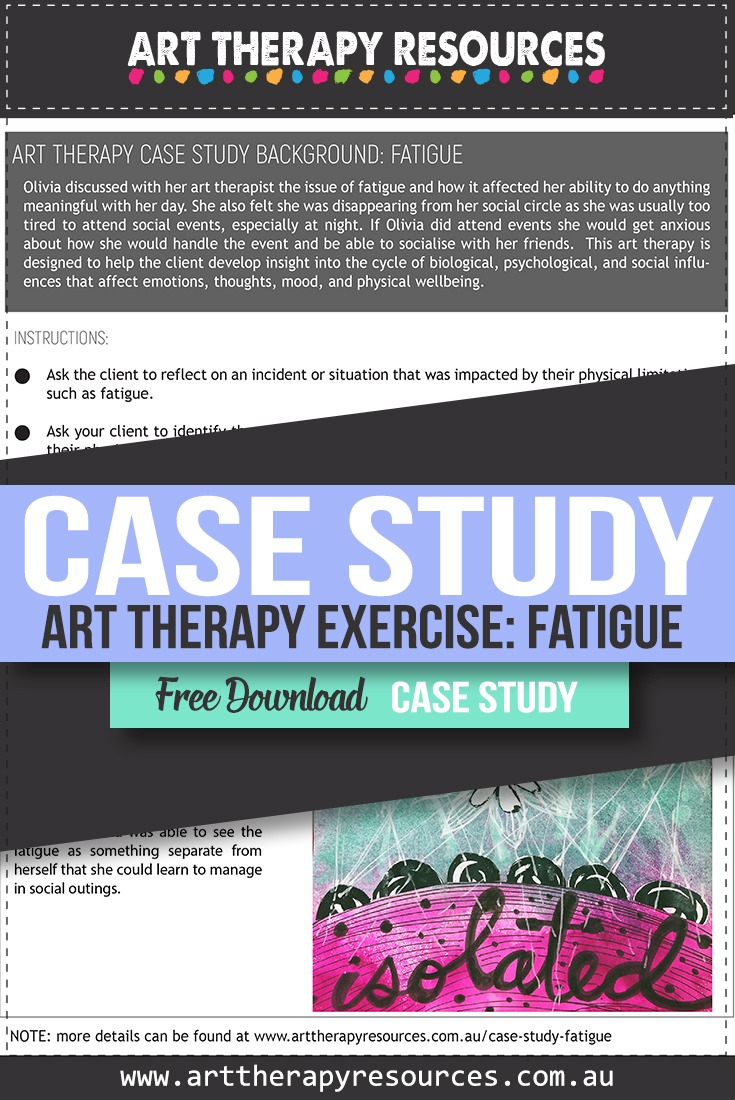 SHARE KNOWLEDGE & PASS IT ON:
If you've enjoyed this post, please share it on Facebook, Twitter, Pinterest. Thank you!