THIS POST INCLUDES:
Art Therapy and Grief
About the Client
Current Client Issues
Art Therapy Exercise
Client Insight and Outcomes
Disclaimer
FREE DOWNLOAD Art Therapy Exercise
The process of grief holds many layers of emotions for the people left behind. They often have to deal with intense emotions under an overwhelming layer of shock and disbelief. Grief can often result in repressing emotion as well as experiencing feelings of guilt over thing left unsaid. Art therapy can help clients by unlocking repressed emotion as well as providing an avenue to externally express inwardly held emotions.
Keeping our loved ones safe and close is mostly a process of feeling that life is in control. When a loved one dies, this loss of control over our relationships can be destabilising. Creative interventions can help provide a sense of control to your client where they can make choices over art mediums, colours, and the creative process. This is relevant for both children and adults who lose loved ones.
Art Therapy also provides a valuable outlet for expression for grief. Clients often describe grief as constantly present and sometimes feel that addressing that presence through talk therapy can feel exhausting where the same thoughts and feelings of grief remain pervasive.
Grief can be a complicated process where your client doesn't just feel the loss of a loved one but also feels a complexity of emotions including guilt, shame, regret and anger. These emotions are particularly relevant if the dynamics of the relationship were strained prior to death.
TRAUMA
In many circumstances of losing a loved one, the issue of trauma is an important one to discuss as trauma symptoms can interfere with the normal grieving process. This is even more relevant for children who lose a parent as children are significantly emotionally underdeveloped in terms of dealing with loss and attachment. This also has a larger impact when the child is dependent on the deceased for daily living.
In the article A Task-oriented Approach to Art Therapy in Trauma Treatment the authors highlight a treatment model of addressing six trauma-focused tasks:
Safety planning
Self-management
Telling the trauma story
Grieving losses
Self-concept and worldview revision
Self and relational development
The authors have identified five types of art interventions that can be useful when working with trauma-related grief:
facilitate expression of current emotional, mental, and physiological states
encourage narration of events with a view to exploring feelings, thoughts, and behaviours that occurred during the event
exploration of meaning in the context of emotions, thoughts, behaviours, and interpersonal relationships including perpetrator
and victim
management of behaviours, self-esteem and, emotion, and other intrusive or avoidant symptoms
interventions to facilitate the integration of traumatic and nontraumatic elements into life history.
ART THERAPY EXERCISES
The article Resolving Child and Adolescent Traumatic Grief: Creative Techniques and Interventions contains a list of creative exercises developed for child and adolescent grief, however, these can also be implemented or adjusted for adult grief:
Writing and Drawing Trauma Narratives
Epitaphs
Acrostic Poems
Unfinished Sentences/Writing Prompts
Life Imprints
Bibliotherapy and Creative Writing
Letter Writing
Drama
Commemoration/Rituals
Planting
Linking Objects
Drawing/Painting/Collage
Additional creative exercises to use in a variety of situations include:
Story telling through pictures of comic illustration
Commemorating memories through crafts such as scrapbooking
Relationship Tree (created by N.Lynn Peterson)
Art Dolls
Through creative expression, clients are able to tell their personal stories of connection to their loved one. They are able to seek comfort through constructing a narrative around their relationship with their loved one. The final artwork can also serve as a reminder to your client of the therapeutic process of connecting with their emotions as well as a reminder of the positive aspects of their relationship. Artworks created through the art therapy process are tangible items that your client can use in the future when processing difficult emotions that result from grief.
The case study has focused on death-related grief, however, grief can also be experienced in a non-death loss such as divorce, job redundancy, losing a home, natural disaster and any other life experience that entails a loss.
FURTHER RESEARCH ON GRIEF
Name: Mary
Gender: Female
Age: 64
Summary of sessions to date: Mary's son passed away unexpectedly from a heart condition 6 months ago.  This is her first session and she's not sure how Art Therapy is going to help her deal with her grief.
Mary frequently thinks about the things she did not say to her son. She did not often tell him how proud she was of him, or how much she loved him. Mary feels her son died not knowing how much she loved him. Mary feels regret at not sharing this information with her son while he was alive.
Mary used writing prompts to address some of the feelings she wished she had expressed to her son. Mary then used those words to create an artwork that showed she could release the trapped emotions and express them externally.
INSTRUCTIONS:
Ask your client to use the writing prompts that focus on emotional expression to a loved one they have lost.

Once the writing exercise is completed, ask your client to use the prompt "What I wish I said..", as a basis for an artwork. Use the artwork to show how these unsaid and trapped emotions can be released.
CLIENT INSIGHT AND OUTCOMES
The art therapy activity helped Mary by giving voice to the unspoken things she wanted to say to her son. As Mary wrote her responses, she felt she was telling her son how she felt.  Mary expressed that the writing exercise helped her express the feelings she felt were locked inside.
Mary said her feelings felt "trapped" and that the writing exercise was a release of those emotions. Mary's feelings had moved from being internally trapped to externally expressed, even if her son wasn't physically present to receive the emotional outpouring. The exercise helped Mary reaffirm her love for her son. She was also able to see from the prompts that she had shown her son love over the years.
Doing the exercise gave Mary a new perspective on how emotionally connected she felt to her son and how she had shown him her love over the years.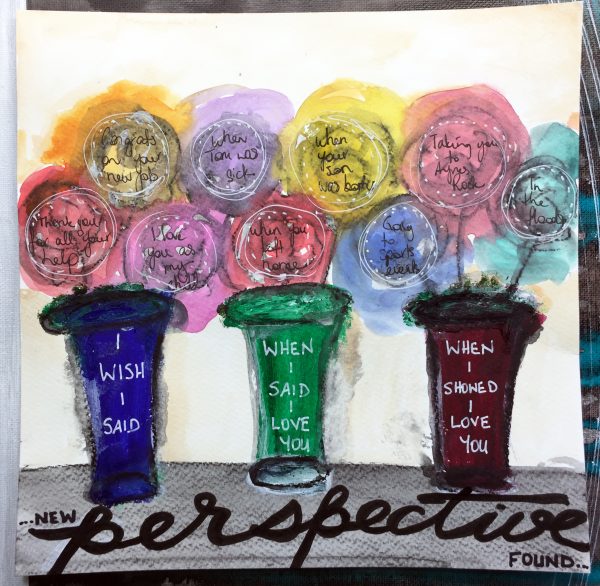 This case study represents a snapshot of the client's progress in treatment. The exercise in this article could be used as written or as a guide for new and original tasks developed by the Art Therapist. Responsibility for treatment resides with the individual therapist who understands their clients specific needs. The art therapy exercise should not be viewed as a pre-defined directive on how to treat a client that presents with a specific range of problems.This art therapy exercise will help build a database of knowledge to draw upon when helping your client. Art Therapy is associated with psychotherapy techniques, however each therapist often approaches therapy with their own foundation of psychological interventions, whether it be psychotherapy, CBT, DBT or other methods. 
FREE DOWNLOAD: Art Therapy Exercise
Download the FREE Art Therapy Exercise based on the above Case Study. The free download includes instructions for the art therapy exercise, along with an example of the art therapy exercise.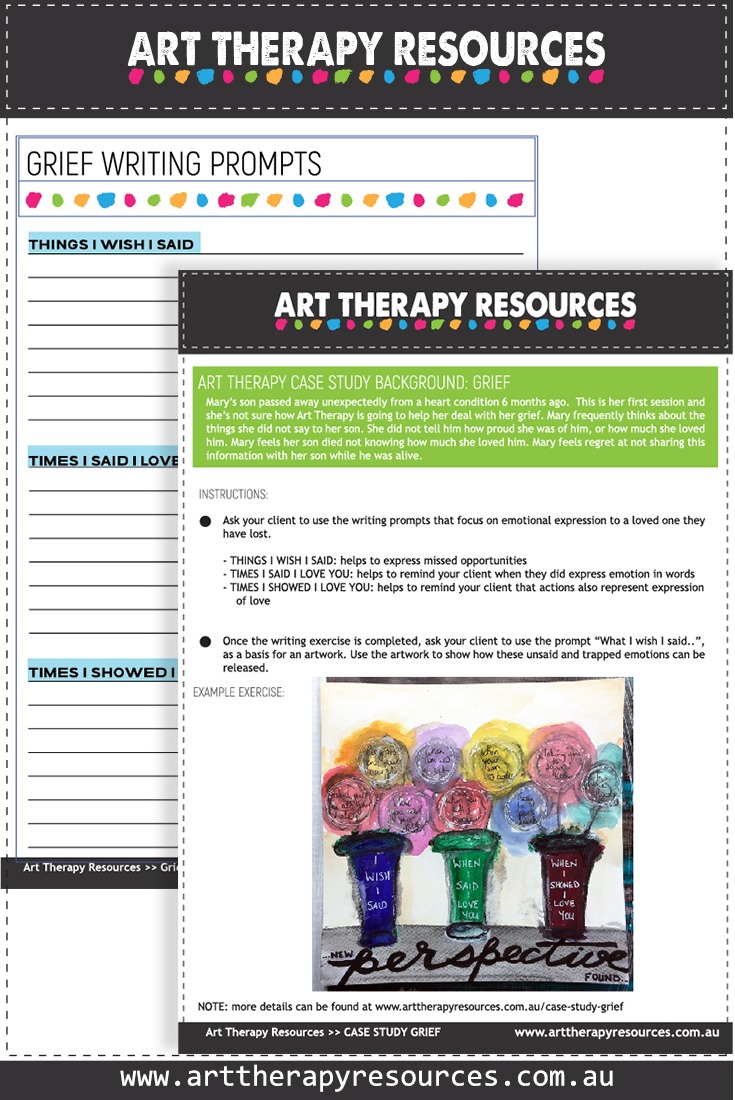 BUILD YOUR ART THERAPY REFERENCE MATERIALS:
Pin this image to your Pinterest board.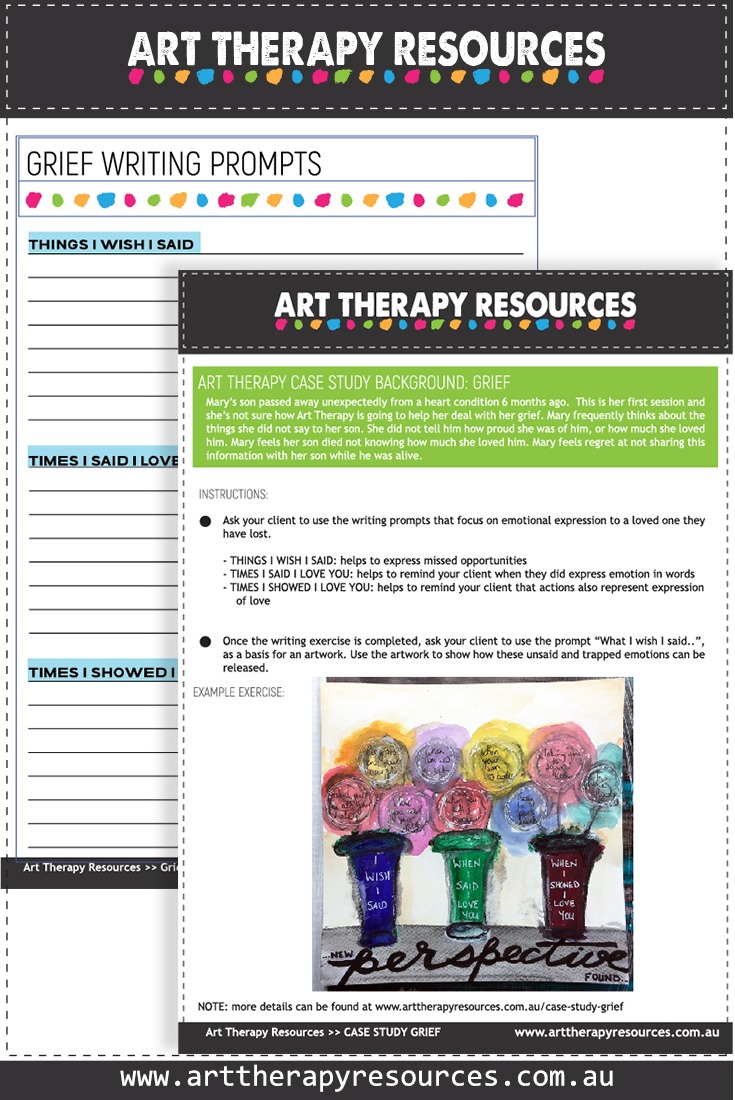 SHARE KNOWLEDGE & PASS IT ON:
If you've enjoyed this post, please share it on Facebook, Twitter, Pinterest. Thank you!