THIS POST INCLUDES:
1. Marketing to Therapy Clients
2. Why Use Email to Promote your Practice
3. Types of Marketing Emails
4. Create an Email Marketing Plan
5. Free Download Email List Checklist
MARKETING TO THERAPY CLIENTS
As an Art Therapist, there are a number of online and offline strategies to market your private practice. With an increasing reliance on the internet to find services, it's important for therapists to promote their therapy business online to existing clients as well as potential new clients.
Marketing can be an uncomfortable topic for therapists to embrace as it can trigger ideas of pushy sales pitches and persuasive (bordering on manipulative) offers. Marketing can also entail paying ongoing costs for what seems like a small tangible return on investment.
For a therapist or any small business owner, marketing is more effective when it involves a personal style of communicating to your clients along with a manageable and predictable ongoing cost. Amongst the various pathways of marketing your private practice, email marketing helps address both aspects of communication style and cost when marketing to your therapy clients.
​
WHY USE EMAIL TO PROMOTE YOUR PRACTICE
​Creating an email list is a common marketing strategy used to be able to communicate directly to your existing clients, potential new clients, and general readers of your content.
Having your own email list of dedicated readers of your content gives you more control over how you collect the details of your potential clients as well as how and when you choose to communicate with them.
Email provides you with a blank canvas in terms of how you communicate with your readers. For most traditional forms of marketing, you can often be limited in terms of the size of your marketing message as well as the type of content you can include in your marketing.
In email marketing, you can send emails in various forms of both short and long form content. You can also cater your content to different types of clients to ensure your marketing message is specifically created for those who will benefit the most from your content.
Using email marketing through a service provider provides essential feedback on how effective your marketing efforts are in communicating with your readers. Email service providers offer useful reporting and analytics to give useful insight into how your readers engage with your email content. This can help you assess the effectiveness of your marketing campaigns and consequently change them for future marketing campaigns.
In most instances, clients will only engage with a health professional when they need to. Communication is primarily focused on appointment making, reminders, and administrative functions. Email marketing provides the opportunity to communicate with clients on issues outside of their primary care. This can provide an opportunity for promoting good mental health strategies and helping your client develop self-care strategies outside of their appointments.
Many forms of traditional marketing are based on a short time frame to make an impact on your viewer. With email marketing, you have the time to build a relationship with your reader and help build an important foundation of trust and understanding with your reader.
Below is a list of email sequences you can create to send to your readers:
INITIAL EMAIL SIGNUP
Signup form with confirmation the subscription is successful
A welcome email explaining your website and business
Farewell email when your reader unsubscribes from your list
REGULAR CONTACT
Monthly wrap-up
Announcements
Introducing new product/service
EDUCATION AND AUTOMATED SERIES
Welcome series – this can be expanded from the original welcome message mentioned above.
Topic series – an educational series covering a specific topic that you think your readers are interested in. The information should refer to your skills as a therapist and how you can help your potential client or reader.
Product series – an educational series explaining your products and services and the benefits they can provide to your client.
Other email content ideas include:
Tutorials and tips emails
Case studies
Private practice background
Reminder emails
Inspiration and motivation emails
Announcement emails
'In the news' stories
Seasonal emails
CREATE AN EMAIL MARKETING PLAN
The important steps to your email marketing plan include:
Set up your email list infrastructure
Set up your email sequence
Promote your email list on your own website
Send emails to your list
Manage your email list
These are discussed in further detail below:
EMAIL LIST INFRASTRUCTURE
Choose an email service – there are a number of free and paid options depending on your email list size and complexity of the features that you want to use in your email marketing.
Establish a plan for collecting email addresses – You need to ensure that you provide an enticing offer that will convince your readers and potential clients to sign up to your list. The process should be easy so that your client is not deterred by a difficult sign up process.
Using your email list – create a strategy on how often and in what format you will communicate to your email list. Will you communicate daily, weekly, monthly? Will you communicate using a conversational email letter style or through a formally designed newsletter format?
Once you sign up to an email provider you then need to establish an effective strategy on how to communicate with your readers.
EMAIL SEQUENCE
This entails setting up an email sequence. An email sequence is a series of emails that you send to your list that might cover a specific topic or series of information about your private practice.
Creating an email sequence provides you with a structure to communicate with your email list so that you don't have extended periods of time where you haven't communicated with your email list. Having an email sequence also helps guide your readers through your website and important information about your private practice.
Regular contact with your readers means your readers stay aware of you and how you can help them.
Your email strategy consists of three primary areas (discussed above in types of marketing emails):
Welcoming your new reader and introducing them to your website and your practice
Regular emails providing updates on your website and your business
Educational and product/service orientated series that guide your readers and potential clients through a specific marketing series to help promote your private practice
Now that your email list infrastructure is set up, you are ready to create your email content to send to your email list.
PROMOTE YOUR EMAIL LIST ON YOUR WEBSITE
The most common places to include your email sign up form on your website include:
Homepage
Menu navigation
Sidebars
At the top of each page
At the bottom of each page
Popups on each page (usually the most annoying method for those who dislike popups)
SEND EMAILS TO YOUR LIST
We've included a few tips below to help you effectively communicate with your email list:
Choose topics that relate to your readers/clients. If you specialize in helping clients with anxiety, create emails that focus on anxiety.
Set up a template for the regular emails that you send out so that you only need to update specific sections of the email instead of creating an entirely new email each time.
Create a schedule for emailing your list. This could be every time you post an article on your blog or a weekly or monthly schedule. You may need to experiment with the length and frequency of your email so that your readers stay engaged with your content.
Regularly include content and offers for your readers that are free. This will remind your clients that you are there to help them and not solely market your services to them.
MANAGE YOUR EMAIL LIST
Once you have created your list and it starts to grow, you will need to undertake some simple maintenance of your list. This will ensure that your list remains an active list full of engaged readers who want to receive your content and regularly read the emails that you send.
Over time a number of issues can occur with email subscribers:
Readers may change their email address and forget to remove the old address
Readers may not read their emails regularly and their inbox may become full and not receive any further emails
Readers may become uninterested in your content and not read your emails
Readers may have spam and junk filters in place that result in them not receiving your emails
Most email providers provide a number of analytical tools to help you analyze the effectiveness of your email communication. These statistics will include details on email addresses that are no longer working as well as statistics on whether your emails are being opened and links within the email are being clicked.
If you don't maintain your list and remove unengaged readers, then you may find yourself paying for the privilege of having unresponsive email addresses on your list. This is not to suggest you have become uninteresting to your readers. It may be that a reader originally signed up to your list based on a single piece of content they read on your website at one time, however, they may decide that the content is not relevant beyond that original piece.
Managing your email list is like any other digital storage where the content needs to be edited and managed so that it stays relevant to your needs.
For additional reading about using email in your private practice, we've included links to previous blog posts below:
FREE DOWNLOAD: Email Checklist
SIGN UP below to download the FREE Email List Checklist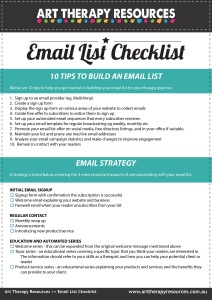 BUILD YOUR ART THERAPY REFERENCE MATERIALS:
Pin this image to your Pinterest board.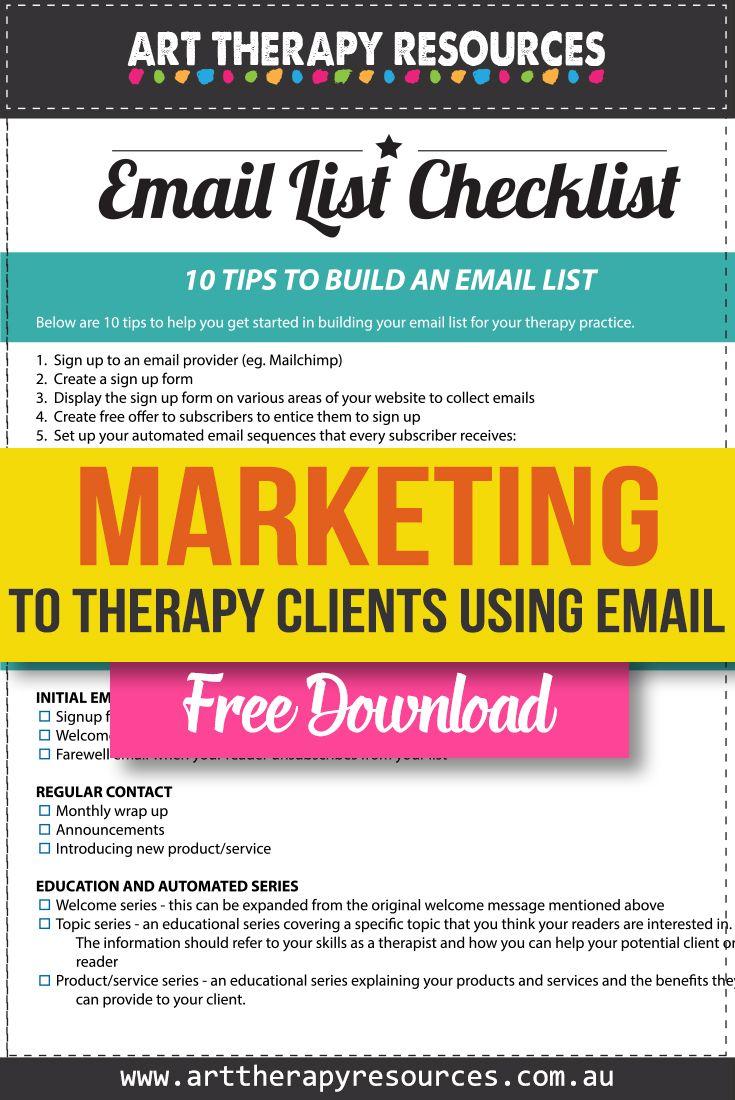 SHARE KNOWLEDGE & PASS IT ON:
If you've enjoyed this post, please share it on Facebook, Twitter, Pinterest. Thank you!