THIS POST INCLUDES:
1. Why you need Productivity Tools
2. 4 Types of Productivity
3. 10 Productivity Tools
4. Free Habit Tracker Download
WHY YOU NEED PRODUCTIVITY TOOLS
We all want to maximise our efforts during the day and reduce our time wasting activities. Increasing productivity not only helps improve our work output but it also helps reduce frustrations by finding our productivity deficits.
Productivity tools work best when they can help us eliminate manual duplication through task automation. In a heavily dependent digital environment, we also need productivity tools to reliably record data and provide immediate access to multiple platforms such as our computers and mobile devices, as well as allowing access to third parties.
Productivity tools deliver the additional benefit of improving the quality of work by eliminating redundant manual work. Productivity tools provide analytics which helps us assess the effectiveness so that we can do more of what works and make any changes to what doesn't work.
Increasing productivity will have a flow on effect to the financial outcomes in your therapy practice primarily through eliminating unnecessary expenses.
In this blog post, we've defined productivity tasks into 4 main categories and provided a list of 10 useful tools to help improve productivity within each category.
The 4 main types of productivity covered in this blog post include:
Idea Generation
Idea Execution
Measurement
Motivation
IDEA GENERATION
Idea generation focuses on the strategies you implement in your therapy practice that will determine what services and products that you sell in your practice.
To generate ideas you need to record your initial ideas and then organise them into a structure that will facilitate execution of your ideas.
IDEA EXECUTION
Idea execution occurs once you've generated your ideas. You will need to use software or offline tools to help establish the foundation of your ideas and perform the necessary tasks over time. Hopefully, this will include a significant amount of automation so that you are taking a more passive approach to implementing the tasks required to operate your art therapy practice.
MEASUREMENT
Once you've established your strategy and implemented your ideas, you will want to measure how effective they are for your business. Using software and offline tools will help measure the effectiveness of your ideas.
The process of measuring your ideas should be as automated as possible so that you can focus your time on assessing the value of the data to help you make necessary business decisions. For example, this is as simple as being able to general automated expense reports so that you aren't wasting time sorting through unorganised paperwork to assess your expenses.
MOTIVATION
The idea generation, execution and measurement categories take care of the functional tasks, however staying motivated is an important psychological component of productivity. Motivation in a personal sense can be in the form of a business coach, mentor, supervisor or financial advisor. If you prefer to use technology there are a number of software products or apps that will help provide mood boosting activities or help facilitate habit forming activities.
Below is a summary of the tools discussed in this blog post.
Idea Generation
Idea Execution
Measurement
Motivation
——————————————————————————————————-
IDEA GENERATION


Trello organises your projects and tasks into boards using cards. The best offline comparison to how Trello works is to imagine using sticky notes on a pin board. It is great for users who like to view their projects visually. Following on from the pinboard/sticky note comparison, you can easily move your Trello cards around on your project board so that you can keep your workflow and progress organised.
Individual Trello cards can contain a lot of information including images, attachments, checklists and deadlines. Trello can be used on a project by project basis or as a weekly calendar with daily tasks.
You can also use templates created by other users. Trello also has an active blog where the company provides useful tips and ideas on how to manage your Trello planning process.
Trello is a web application tool so can be used on your desktop as well as on mobile devices. Because it is a web application you will have access to your Trello account and boards anywhere as long as you have an internet connection available. This also means that you can share and collaborate with other users. Trello is free and also provides an upgrade service for additional features. The free version will provide all the features that you need to effectively use it for your art therapy business planning purposes.
You can use these inspiring boards (https://trello.com/inspiringboards) as a template for your next project or use them as inspiration to incorporate some of the ideas into your own trello set up.
We've created a FREE Trello board template for you based on a weekly layout. We've included image labels for each heading as well as some blank cards to get you started.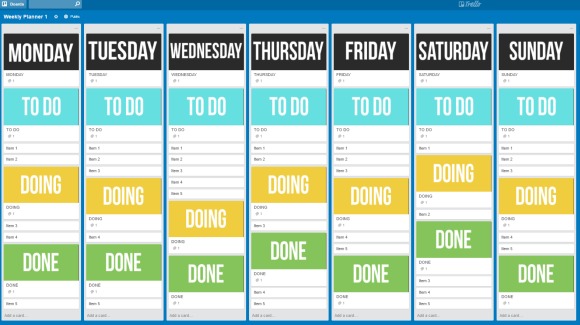 If you just want to use this board for a 5 day work week, delete all of the cards that are showing in the Saturday and Sunday columns. To do this, click on the menu button in the right hand corner of each column and select ARCHIVE THIS LIST from the bottom option.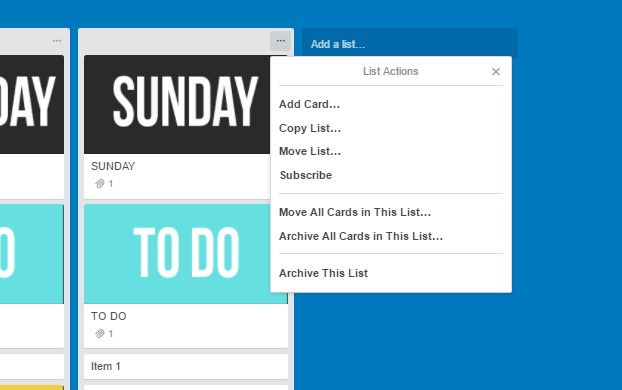 ——————————————————————————————————-
You can save articles, videos and most media into Pocket. You can save from your web browser, your email and from over 1500+ apps. For example, I use Feedly as my blog reader and I can save any interesting blog posts from Feedly into Pocket. You can also use other apps like IFTTT to automatically save new website content to your Pocket. This is useful if you want to automate the way you stay up to date on Art Therapy research.
There are a number of public IFTTT recipes to help you share, send or save items with Pocket.
Once you've saved your media into Pocket you can then access it across multiple devices including your phone, tablet or computer. The items are available offline and online.
In the Pocket app you can create categories to help organise your saved content.
From a productivity point of view, apps like Pocket can have a downside in that you may find yourself freely saving content to Pocket to read later, however, you never get around to reading those articles later. Before you know it, your Pocket saved items becomes too overwhelming to look through. When saving an article or piece of media, ask yourself is it the entire article that you wish to save or only a section. If it's the entire article, the save to Pocket, however, if you only want to save a section of content, consider using another program such as Evernote to record bite-sized pieces of information.
When deciding to save articles or items form the Internet, I make a judgment on how interested I am in the article. If I'm just intrigued by an article I skim the content at the time I find the item. Sometimes just a skim read is enough to satisfy my curiosity on the topic. If I want to explore the topic in detail, I save the item to my Pocket to read later. Once a week I review all my Pocket content and read, delete or permanently save any content.
The best news is Pocket is FREE!
——————————————————————————————————-
IDEA EXECUTION

Evernote is used as a writing tool, however, it has extra features that enable it to be used in a planning capacity for your art therapy business.
You can send information directly from the internet into your Evernote documents. You can share documents privately and publicly and as it is a web-based program, your data is synced so that you can access your account across multiple devices at any time.
Evernote's organisation system is based on notebooks which are similar to folders. This allows you to organise your notes according to a project and keep sections well defined with individual notes. Evernote also has some other useful planning type features such as reminders and checklists.
You may notice in some of our blog posts, we offer free Evernote downloads for worksheets and templates. These templates can be freely accessed by clicking the links in each post.
Here is a collection of some of the Evernote documents you can download. The FREE Evernote document can be found at the end of each blog post: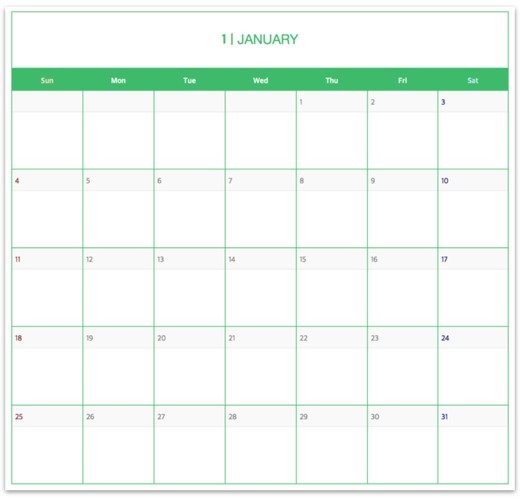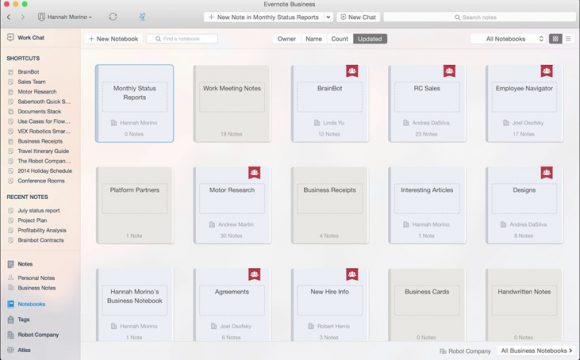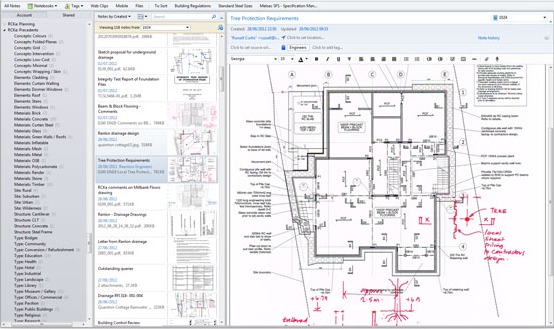 If you need help to develop your planned content, we have an Evernote Blogging Package available in the store. Below is a snapshot of the content within the Evernote Blogging Package. You can find more details on each package on the website here:  Evernote Blogging Package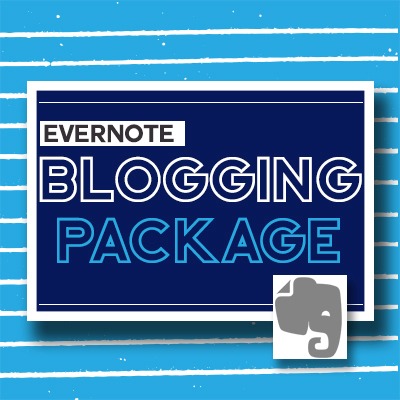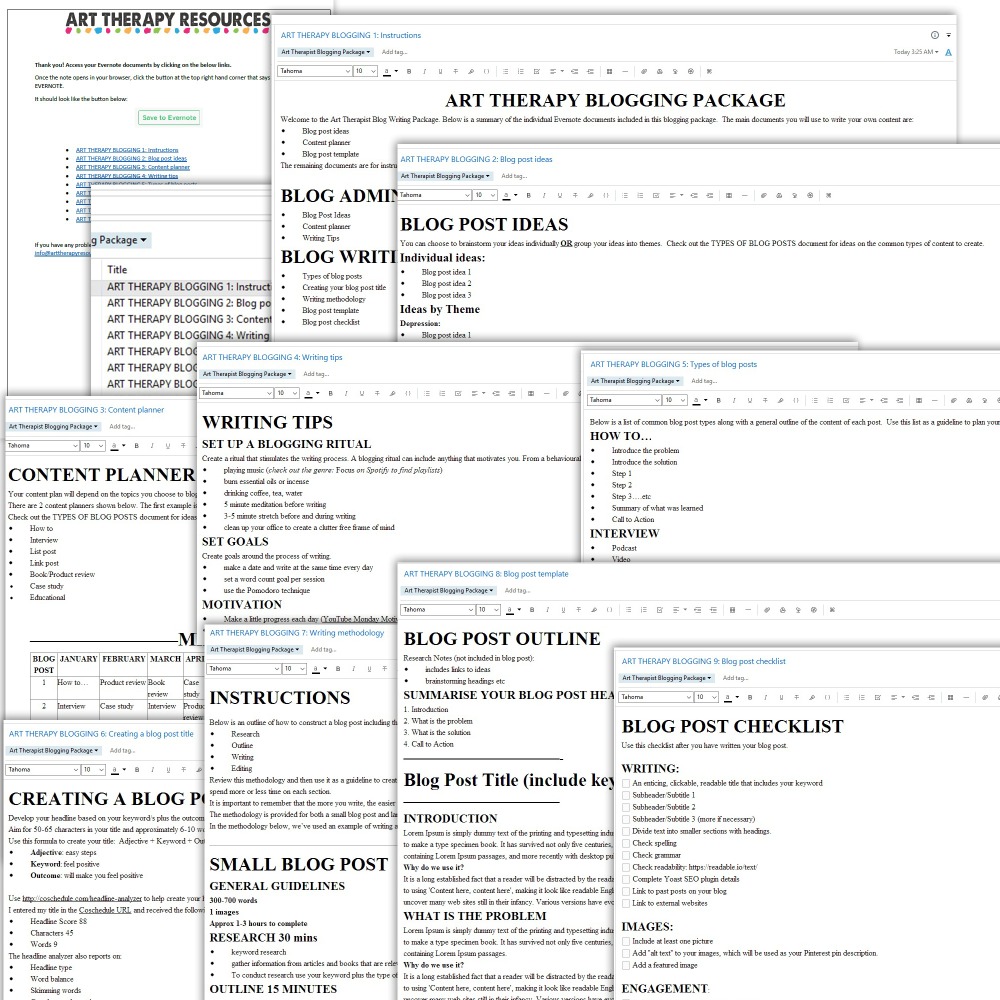 Using the resources in this package makes the process of blogging so much easier. It will save hours of wasted time trying to construct the perfect blog layout.
After working through this package you will:
have a clear understanding of the best approach to plan for your blogging content
easily construct your own content planner for the year (or use our suggested planners)
create the most effective title for your blog post
create your blog content using our step by step blog post template
review your blog post using our blog post checklist
This product purchase is a collection of Evernote documents to be saved in your Evernote program.
The contents of this package include the following sections:
BLOG ADMIN
Blog Post Ideas Worksheet
Content planner
Writing Tips
BLOG WRITING
Types of blog posts
Creating your blog post title
Writing methodology
Blog post template
Blog post checklist
——————————————————————————————————-
We've discussed IFTTT in a previous blog post about social media scheduling.
IFTTT is an automation tool that provides a communication channel between your software, tools and apps. The name is an abbreviation for If This Then That. For eg, IF I post an article to my blog, THEN, share it to my Twitter Page.
IFTTT requires you to create a recipe which details the trigger (a post to my blog) and then what the following action is (share to my Twitter page). You can create your own recipes or use recipes that other users have created that are available for public use.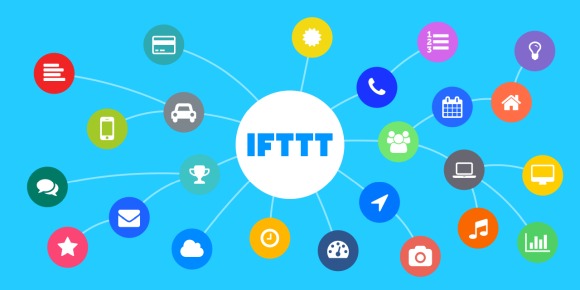 ——————————————————————————————————-

Wunderlist is a web-based to do list. It is great for keeping a simple actionable list that doesn't require complex task managing. Wunderlist has a number of useful features that make to do lists more useable including reminders, sharing and copying. You can also email and print your lists if you want to work with a physically printed list during the day.
Because Wunderlist is web-based, it syncs over any of your devices while connected to the internet. This eliminates the need for carrying notebooks.
Wunderlist is free and has upgrade plans for extra features.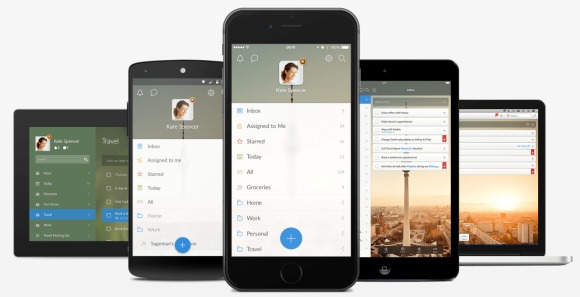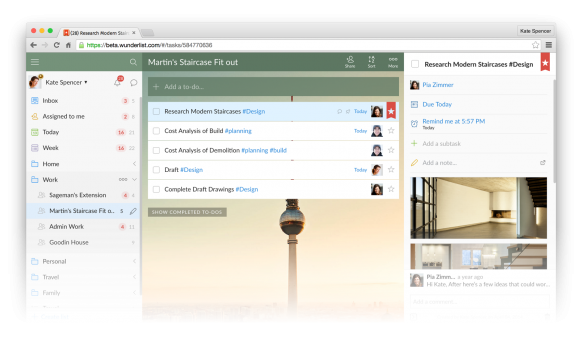 ——————————————————————————————————-
MEASUREMENT
Visit StayFocusd Chrome Store Link
From the creators:
StayFocusd is a productivity extension for Google Chrome that helps you stay focused on work by restricting the amount of time you can spend on time-wasting websites. Once your allotted time has been used up, the sites you have blocked will be inaccessible for the rest of the day. It's highly configurable, allowing you to block or allow entire sites, specific subdomains, specific paths, specific pages, even specific in-page content (videos, games, images, forms, etc).
After you use RescueTime and analyze your online productivity, StayFocusd helps you manage the distractions in your online time. StayFocusd can be used at a number of levels by individually limiting time, days and specific websites.
For example, you may want to avoid Facebook only during the day. You can use it to limit your daily time spent on a website. If you want to access Facebook at any time of the day, you can set an overall daily limit of 30 mins. You can also use the "nuclear" option which blocks you from accessing certain websites, links or the entire internet. All of these options can be adjusted depending on your needs.
You can also use the "nuclear" option which blocks you from accessing certain websites, links or the entire internet. All of these options can be adjusted depending on your needs.
All of these options can be adjusted depending on your needs.
Below is an example of how you might want to use the StayFocusd app:
1. Limit your daily usage of Facebook to one hour per day. Check 30 mins in the morning and 30 mins at night. Knowing you have this time limit will help you focus on important tasks like updating your Facebook business page and responding to any comments. Out of each 30 min block, you might want to allocate 10 mins to catch up with the news feed of your personal contacts.
Out of each 30 min block, you might want to allocate 10 mins to catch up with the news feed of your personal contacts.
2. If you want to write a blog post, limit your access to the internet for 30 mins so you can research your topic. Then go nuclear for the next hour while you write your post. If you need to do any further online research, include a notation in your text that stands out so that you can add to it later. I use the notation <
I use the notation <REVIEW> when writing. When I finish my distraction-free writing time, I can easily identify the areas that need further research by looking for the <REVIEW> notations.
3. You could block specific personal websites from your desktop computer and only access them through a mobile device. This ensures your computer is a purely functional workspace.
Below are some screen shots highlighting the features of StayFocusd: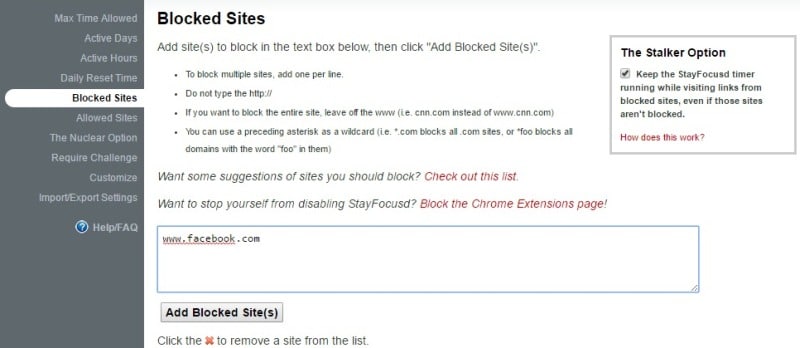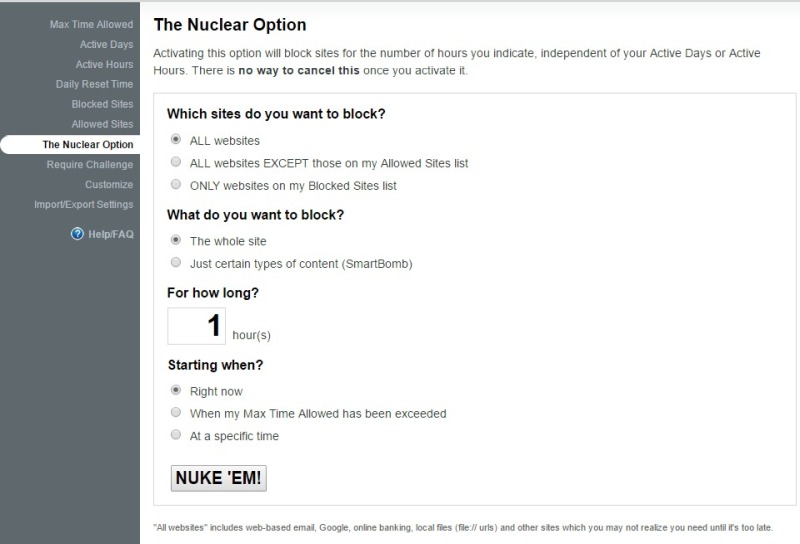 ——————————————————————————————————-
Excel is typically used with anything involving numbers and calculations, however, it can also be used as a useful planning and scheduling tool. This is primarily because of its structure using rows and columns which will allow you to easily enter and manipulate data.
The ways in which Excel can be used for business planning is endless. What significant benefit of using Excel, is that there is a vast catalogue of free templates that you can download and use. You can view some of these templates here:  EXCEL TEMPLATES
Some examples of the templates that are available include:
Expense tracking
Trip planner
Idea planners
Time sheets
Calendars
Lesson plans
You can download 2 FREE templates we've created that will assist in your planning. You can find the tools available in these blog posts:
Productivity Tools: Stay Focusd vs Rescue Time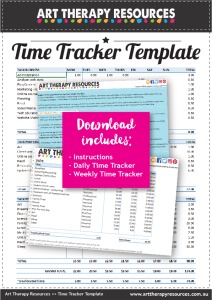 How to Create an Annual Social Media Plan in 60 mins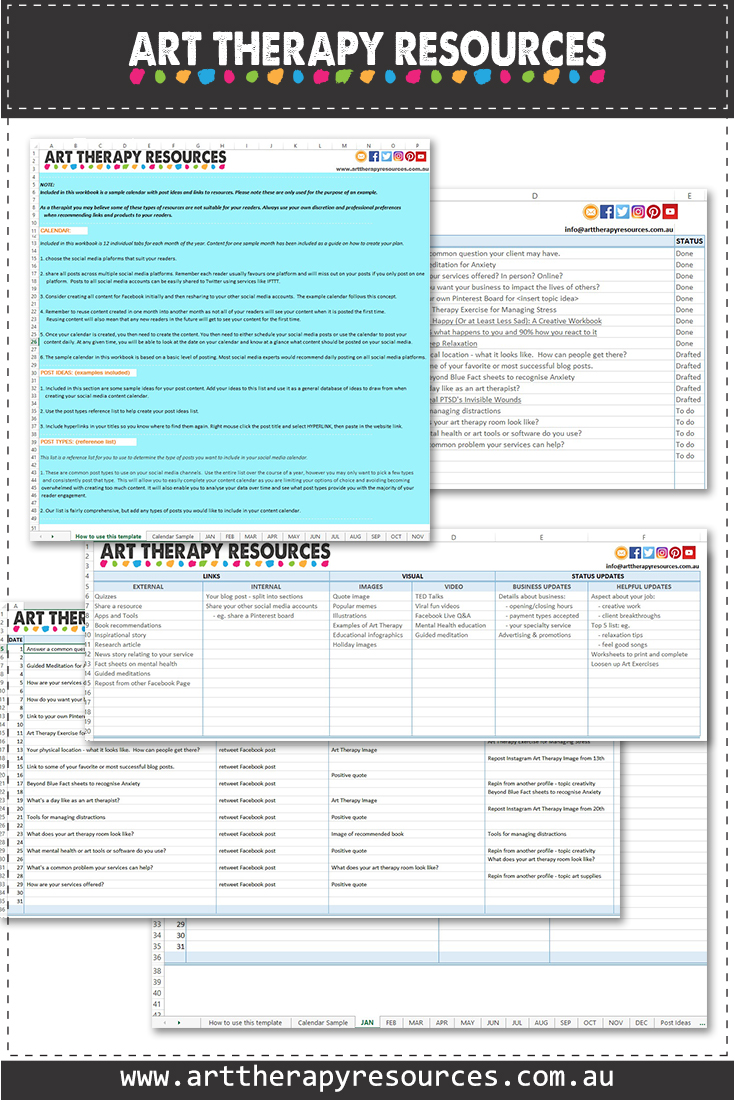 Excel is available for use across a variety of platforms including desktop and tablets.
——————————————————————————————————-
DAILY PLANNER
If you like the idea of using an offline tool to record and measure your productivity, then you might be interested in a planner.
Most planners come pre-designed to follow a specific daily, weekly or monthly format for planning. A popular alternative is the Leuchtturm1917 which comes in a variety of styles (lined, dotted, blank etc). Each page is blank which means you can create your planner format whatever way you would like, whether it be based on a daily format or weekly or monthly format of recording. These journals are popular for both planning and bullet journaling. Bullet journaling is a specific method of planning. You can read more about bullet journaling here or if you want to be more creative you can read more here.
Bullet Journaling and planning can be as elaborate or minimal as you like.
Leuchtturm 1917 Hardcover Journal  (affiliate link)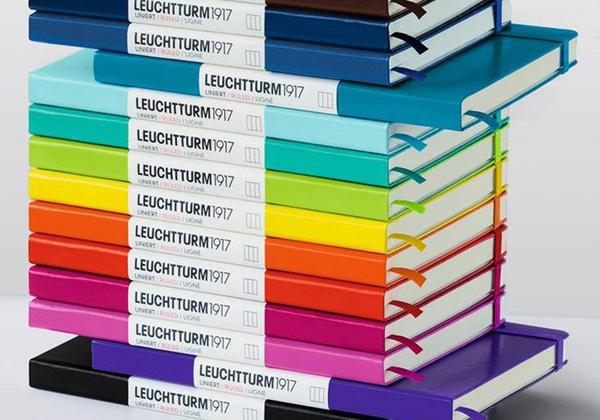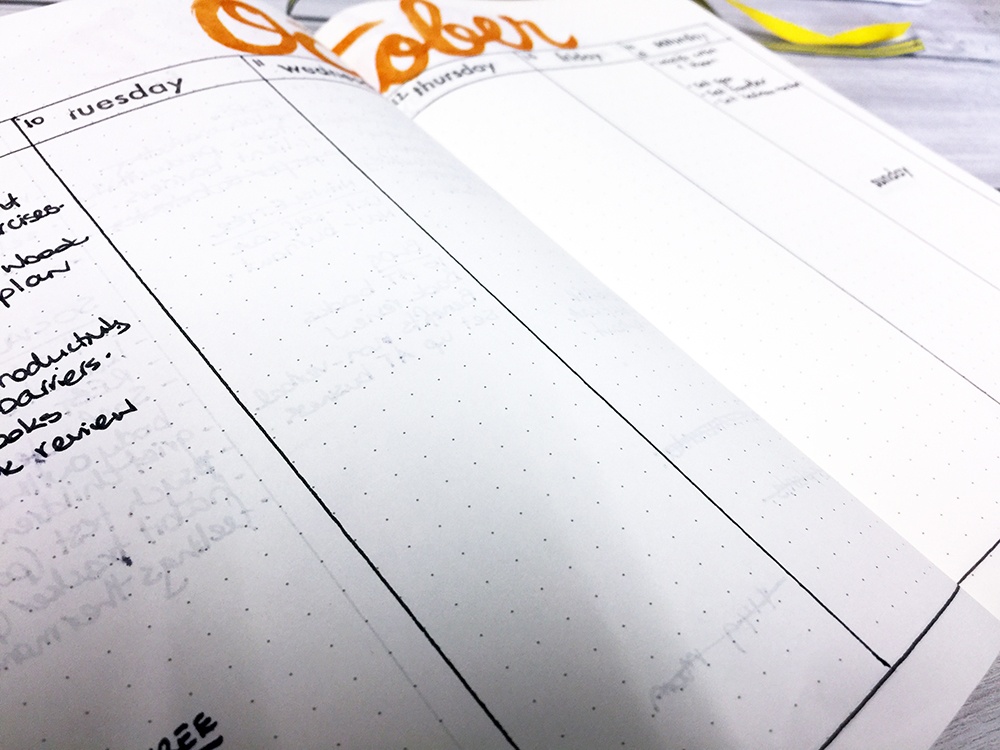 You can also use a pre-designed planner if you prefer a structured planner to help plan your measure your activities.
MINIMALIST Undated Large Day Planner (8.5 x 11 inches)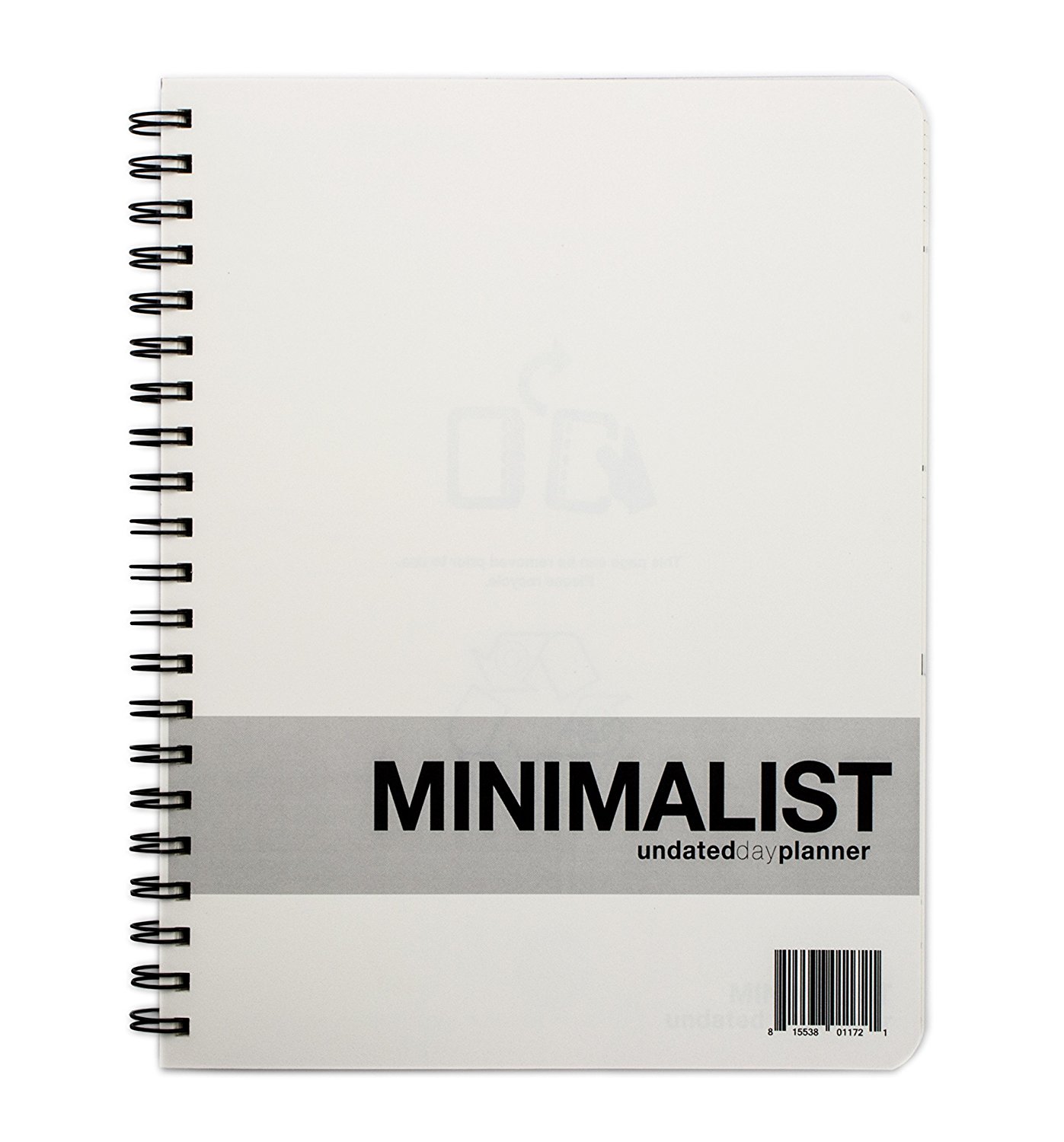 ——————————————————————————————————-
MOTIVATION
There are many excellent apps and programs that will help you get motivated in preparing to do your activities as well as apps that will help you stay motivated while you're executing your activities.
POMODORO
If you haven't heard of the Pomodoro Technique before, it is a method of time management developing in the late 1980's by Francesco Cirillo. The technique suggests working in limited periods followed by a short break. This process of a work period followed by a break is called 1 Pomodoro. Ideally, you will repeat this Pomodoro pattern approximately 4 times and then take a longer break of approximately 30 mins.
Originally the method was based on work periods of 25 mins with a break period of 3-5 mins, however, you could adjust your work and break periods based on your own preferences.
There are many Pomodoro based apps available to use either on your desktop computer or mobile device. A suggested Chrome extension is Strict Workflow.  This extension allows you to block websites as well as set your own work time and break time intervals.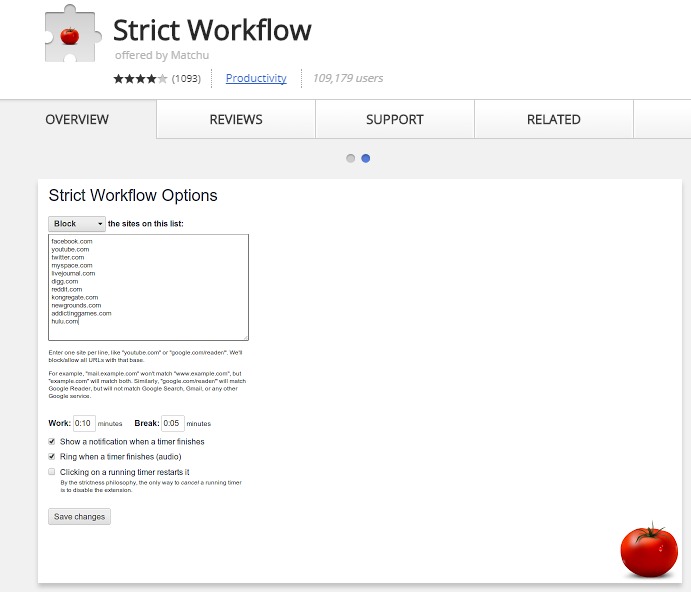 ——————————————————————————————————-
HEADSPACE
As suggested in the Pomodoro technique, taking breaks is an important part of staying productive. Your idea of a break should not involve looking at other work tasks or checking email or social media. Ideally, your breaks will involve some kind of mental relaxation techniques or physical movement if you have been sitting for a long time. One suggestion is to use a quick meditation session to facilitate deep breathing and mental downtime.
Most meditation apps have session times ranging from 5 to 30 mins.
Headspace is a paid service, however, it offers a free 10-day intro program called Take 10.  You can read more about the scientific benefits of meditation on the Headspace website here: Scientific Benefits
FREE DOWNLOAD: Habit Tracker Printable Download
SIGN UP below to download the FREE Habit Tracker Pdf available in A5, A4 and US Letter size
Download the Habit Tracker Printable pdf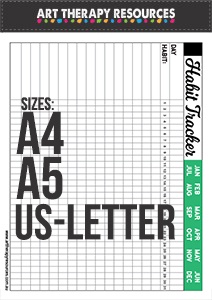 BUILD YOUR ART THERAPY REFERENCE MATERIALS:
Pin this image to your Pinterest board.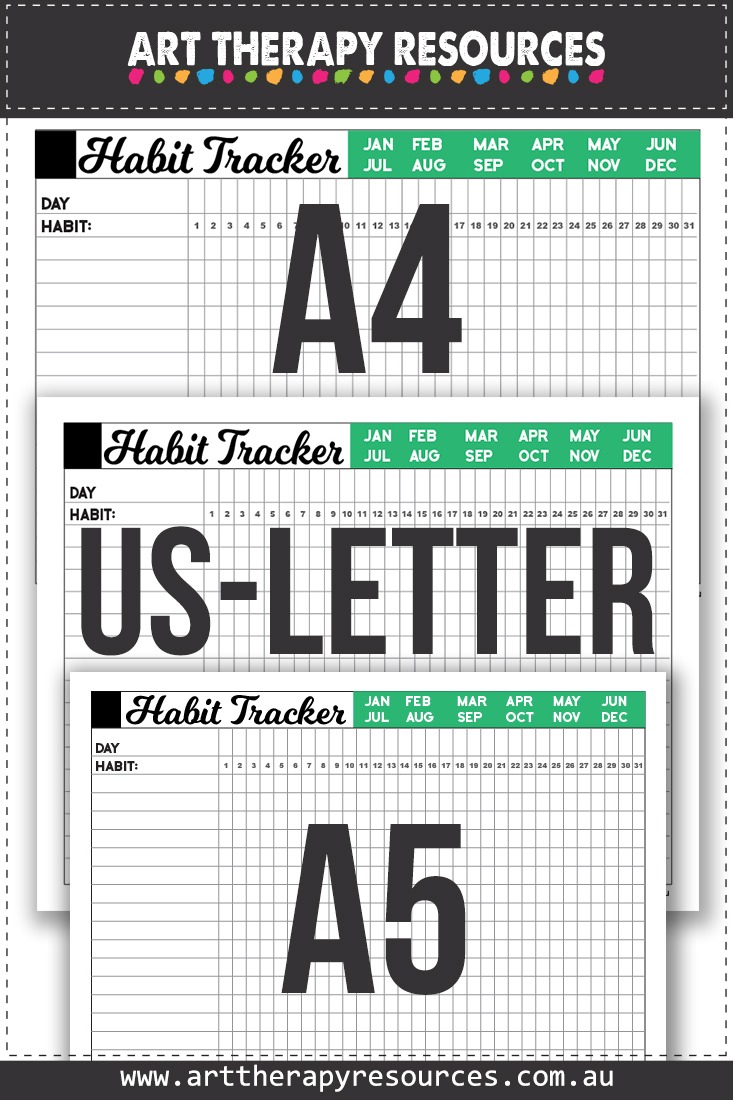 SHARE KNOWLEDGE & PASS IT ON:
If you've enjoyed this post, please share it on Facebook, Twitter, Pinterest. Thank you!