THIS POST INCLUDES:
1. Types of Marketing Templates
2. How to Create a Marketing Template
3. 5 Marketing Templates
4. Free Download Annual Social Media Plan Template
TYPES OF MARKETING TEMPLATES
Marketing is an important part of your art therapy practice. Creating your marketing message and specific advertisements means you sometimes need to use resources to help create your message. This can include images, audio, video, and logos. Creating marketing resources can be a time-consuming activity and as a therapist, you may not want to spend any more time then you need to on this task.
Creating templates for your marketing resources can save you time, money, and effort. It can also help you create a consistent message about your therapy practice brand. Using marketing templates helps you create a professional and attractive look to your private practice communications.
Marketing templates can help you spend less time worrying about creating effective marketing designs and allow you to concentrate on creating valuable content for your potential clients.
Some examples of marketing templates include:
Calendar templates – planning content writing and publishing
Strategy templates – defining a marketing strategy for each marketing platform
Social media templates – recreate social media campaigns using a template
Content writing template – streamline your writing process such as blog posts to speed up the writing process
Marketing assets – create templates for all your advertisements so that you only need to change the offer/content
Content resources – create templates for your images, audio, and video
HOW TO CREATE A MARKETING TEMPLATE
A template is something you create that you can use many times over. If you know what templates your private practice will need to use for marketing, you can create them ahead of time so they are ready for use at any time.
If you're not sure what marketing templates you need to create at the start, then you can simply create your templates each time you create a new piece of content. For example, if you are creating an advertisement for Facebook, save your files as templates in a separate template directory so that next time you need to create a Facebook advertisement, you already have the basic files to adjust.
If you are creating a template in advance, you should make sure your template contains some of the below information if it is relevant:
Business name
Business logo
Business website link
Business social media links
Business logo colour palette
Introduction and closing if it's a letter/email template
Header/footer if it's a document template
Once you've created your template, save it in a specific template folder so that you can easily access it in the future. Ensure you name your file something useful that will help you find the file again in the future.
An example of how to name your social media files might be:
facebook-post-template.jpg
twitter-post-template.jpg
pinterest-post-template.jpg
We've included 5 examples of marketing templates below to give you some inspiration on creating your own:
Blog post template
Sales page template
Social media planner template
Email reply template
Brand image assets templates
///////////////////////////////////////////////////////////////////////////////////
1. BLOG POST TEMPLATE
Note: this blog post checklist is taken from the Blogging Package that is available in the store. 
BLOG POST CHECKLIST
Use this checklist after you have written your blog post.
WRITING:
An enticing, clickable, readable title that includes your keyword
Subheader/Subtitle 1
Subheader/Subtitle 2
Subheader/Subtitle 3 (more if necessary)
Divide text into smaller sections with headings. Use bullet points where necessary
Check spelling
Check grammar
Check readability: https://readable.io/text/
Complete Yoast SEO plugin details
Link to past posts on your blog
Link to external websites
Include keyword in text
IMAGES:
Include at least one picture
Add "alt text" to your images, which will be used as your Pinterest pin description.
Add a featured image
ENGAGEMENT:
Call To Action Ask to comment below
Call To Action Ask to bookmark or share on social media
Call To Action Ask to take action (i.e., optin your email list, book a session, buy something, etc.)
///////////////////////////////////////////////////////////////////////////////////
2. SALES PAGE TEMPLATE:
Note: this sales page template is taken from the Course Planner Package that is available in the store. 
SALES PAGE EXAMPLE
Your sales page is one of the most important parts of selling your course. Your sales page is a separate page that you create on your website. All of your marketing channels should lead to your sales page.
Below is a checklist of key components that should appear on your sales page:
1. Headline
2. Image to create interest
3. What will the audience learn
4. Preview of course – can be a snippet video or simply a written list of some of the content
5. Who will the course suit
6. Benefits of the course
7. Some more details about the content of the course
8. Any bonuses provided aside from the course content
9. How will the course be delivered
10. What are the pricing options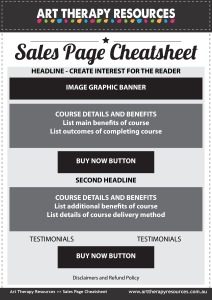 ///////////////////////////////////////////////////////////////////////////////////
3. SOCIAL MEDIA PLANNER TEMPLATE
You can download this Social Media Planner Template at the end of this blog post. You can also read more helpful information about using the social media planner template for the following blog post: How to Create an Annual Social Media Plan in 60 mins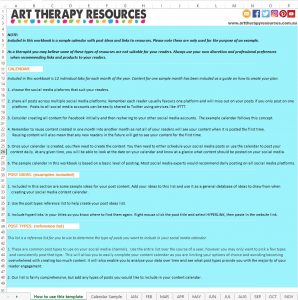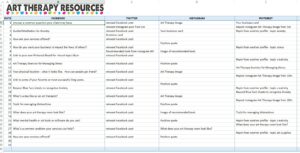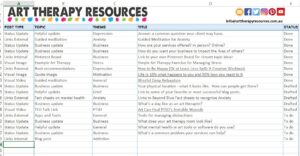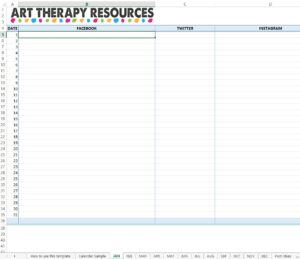 ///////////////////////////////////////////////////////////////////////////////////
4. EMAIL TEMPLATE: INQUIRY REPLY EMAIL TO CLIENT
Note: this email template is taken from the Admin Package that is available in the store. 
Sample data is included using the fictitious business Mary Smith Art Therapy.
Add, amend and remove information from the sample email so that the email template relates to your specific business services and skills.
If your potential client mentions the problem they want to talk to you about, be sure to highlight your experience with that specific problem eg. Divorce, depression, grief etc
—————————————————————————————————————————
Dear [Potential client],
Thank you for inquiring about my services. I provide art therapy services and have a wide range of counselling experience that may help you including:
Individual counselling
Marriage counselling
Family counselling
Group Art Therapy Workshops
Would you like to schedule an appointment? You can use our booking form online to make an appointment [insert booking link], or alternatively, you can call our office during office hours on [insert number] and we can help you.
If you would like someone from our office to call and discuss an appointment time with you, please let us know your contact number and a list of preferred times to call you.
If you are in crisis, please contact a crisis line immediately. Below is a list of resources available and their contact numbers. These resources are free for you to use at any time.
[insert the appropriate crisis contact details for your country. You can find a list of the details from some countries here: https://en.wikipedia.org/wiki/List_of_suicide_crisis_lines]
Thank you for contacting me. I look forward to meeting you soon.
Mary
Mary Smith Art Therapy
123 Main St, City, State, Postcode
Phone number: 123456789
///////////////////////////////////////////////////////////////////////////////////
5. BRAND IMAGE ASSETS TEMPLATES
Below are some example of branded image assets from Art Therapy Resources to illustrate how you can create a cohesive set of brand image assets and use them across various platforms:
Website Logo

Facebook Header
Twitter Header
YouTube Header
Ebook, Document, Workbook, PDF handout header


Favicon
Facebook profile
Twitter profile
Instagram profile
Pinterest profile

Email Signature

Letterhead

Social Media image templates

---
ADDITIONAL READING:
FREE DOWNLOAD: Social Media Template
SIGN UP below to download the FREE Social Media Planner Template to help you plan your social media content for your private practice.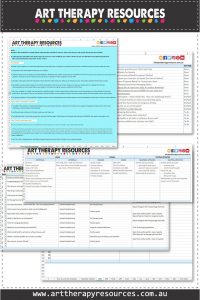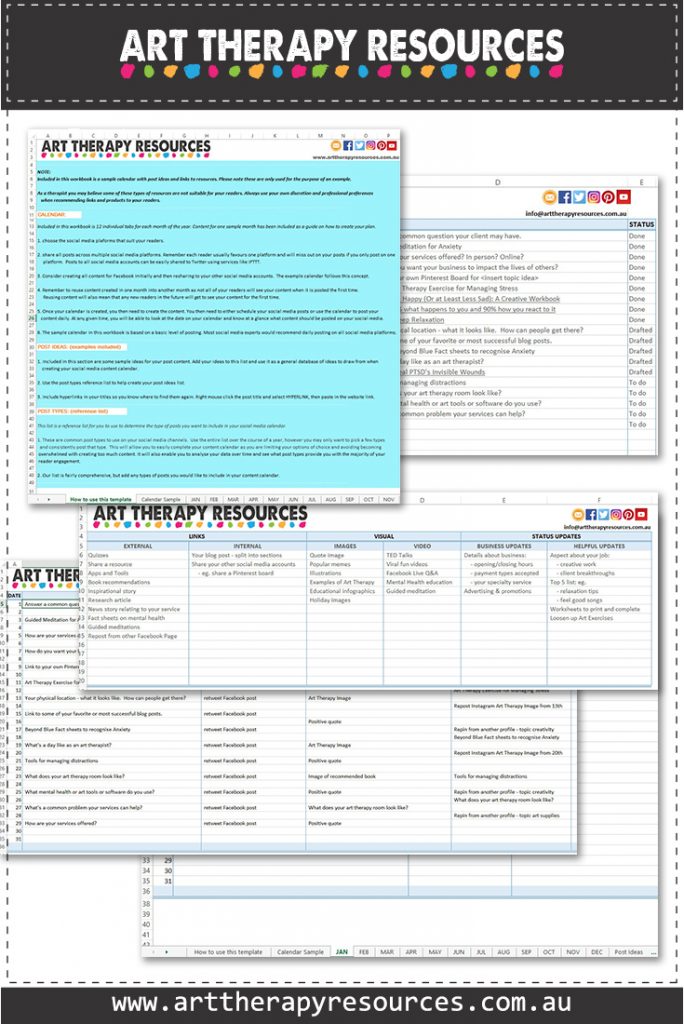 BUILD YOUR ART THERAPY REFERENCE MATERIALS:
Pin this image to your Pinterest board.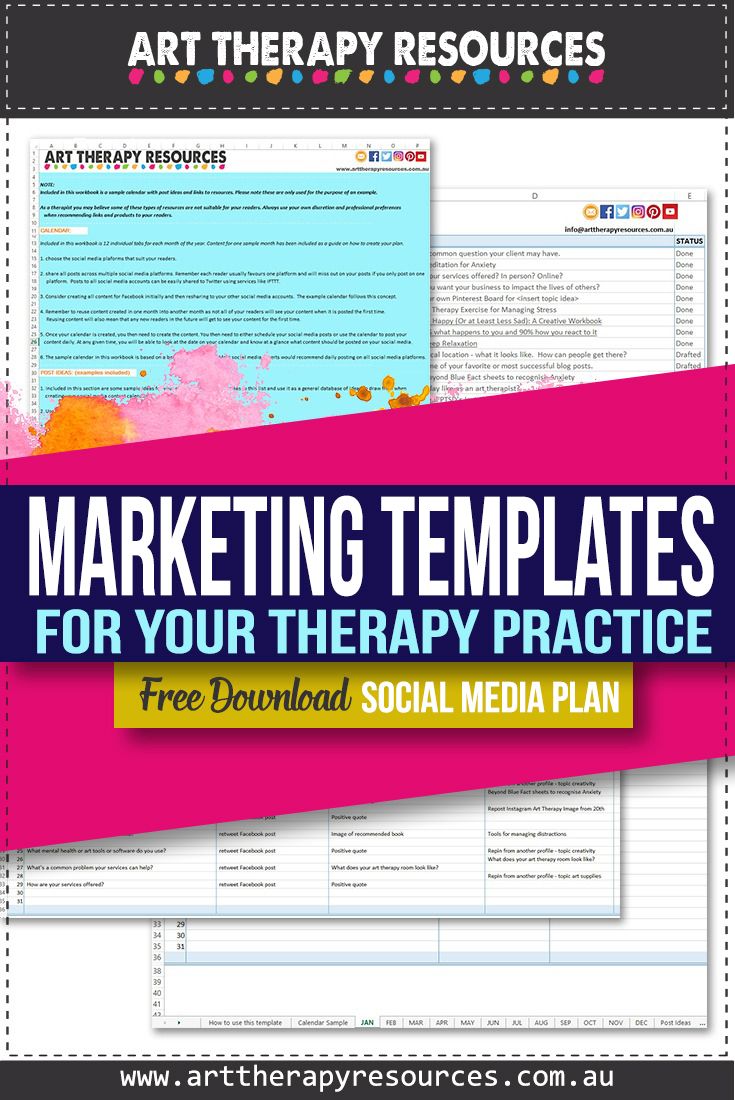 SHARE KNOWLEDGE & PASS IT ON:
If you've enjoyed this post, please share it on Facebook, Twitter, Pinterest. Thank you!