THIS POST INCLUDES:
1. Professional qualifications of an art therapist
2. Personal traits of an art therapist
3. Recent job advertisements
4. Free Download Summary List Psychotherapy Skills
PROFESSIONAL QUALIFICATIONS OF AN ART THERAPIST
The professional qualifications required to be an art therapist will depend based on the country you live in. Common qualifications include certificates and/or degrees in psychology, counseling, social work, and a formal art therapy course. Many countries will provide alternative pathways to achieve the qualification of art therapist as some people begin their art therapist journey from already established careers within healthcare, education, or psychology/counseling based careers.
The Art Therapy Blog has some excellent resources on the requirements to become an art therapist in different countries around the world. Please note, that some of these pathways change regularly, so you should check with the relevant bodies within your location.
Below are some blog posts from The Art Therapy Blog (not affiliated) that you may find helpful:
A typical curriculum in an art therapy course includes the following topics:
History and theory of art therapy
Techniques in art therapy
Using art therapy in various treatment settings – private practice, group etc
Developing counseling skills
Ethical and legal issues
Art therapy assessments
Cultural and social diversity
Thesis project
Internship or practicum hours for developing practical skills
Not all countries regulate the title of art therapist, so some countries will confer the qualification of art therapist to individuals with a certificate. Other countries may require a Masters degree and minimum required client contact hours.
The pathway of qualifications can lie anywhere between that range. As the career of art therapy becomes more accepted and popular, countries may begin implementing more structured pathways to achieving the qualification of art therapist.
PERSONAL TRAITS OF AN ART THERAPIST
A list of personal traits can sometimes be subjective. Often when we read these lists, we think, well of course you need to be compassionate. Or you may read a personal trait and think you don't have that trait and therefore cannot be effective in that career. But these traits can be viewed from different perspectives.
For example, compassion may seem a necessary trait and it may also seem an easy trait. However, can you extend this compassion to people you may not normally feel compassion for – sexual assault offenders, child abusers, domestic violence offenders? Some of the clients you may encounter will push your boundaries on acceptable behaviour and this is where our compassion is often tested and challenged.
Common qualities that an art therapist will exhibit include:
Sensitivity
Empathy
Creativity
Emotional maturity and stability
Patience
Interpersonal skills – listening and communicating
Observation skills
Openness to other's unique experiences
Flexibility and adaptability to individual client needs
Aside from the expected characteristics of empathy and compassion, an art therapist will benefit their clients by having an overall commitment to understanding the individual needs of each client.
Mental health professionals can sometimes get caught up in research statistics and expected outcomes, however, each person who enters the art therapy space brings with them a life of individual experiences that may not directly correlate to how our textbooks have taught us to interpret behaviour.
Research, statistics, protocols, and directives can help guide the art therapist's approach to client work, however, art therapists should always remain open minded and flexible to welcome the individual experience of each client.
RECENT JOB ADVERTISEMENTS
If you're starting on a pathway to becoming an art therapist, it's useful to know what employers are looking for in an art therapist. You can do this by searching current job advertisements and identifying the types of professional and personal qualifications that are in current demand.
We had a look at some recent job ads and identified the following common requirements (worded by the advertiser) amongst a handful of advertisements:
Able to play 1 or more instruments (for music related art expression)
Capacity to produce and instruct others in creating visual arts
Enthusiastic, charismatic, flexible, and passion
Ability to advocate for clients
Work well independently, autonomously and within a team
Proactive
Leadership skills
A genuine passion for helping people and enriching their lives through activity
Positivity, a supportive nature, and a demonstrated ability to display compassion and empathy
Non-judgmental attitude
Ability to relate to people from all backgrounds
Ability to handle sensitive and difficult issues.
Demonstrated high level verbal, written, and interpersonal communication skills, including the ability to adapt communication style to suit different audiences.
Ability to liaise with a wide range of customers from diverse social and cultural backgrounds
Ability to work independently and effectively manage time.
Complete initial assessments and develop treatment plans
Bachelor degree in either Music or Art Therapy – Master level qualification highly regarded
Minimum of a Bachelor degree in a human service related field including counselling, psychology, social work, teaching, occupational therapy, art therapy, or similar
Minimum of 2 years experience working in a mental health and wellbeing service environment
National police check and Working With Children Check
Refining a list of traits of an art therapist down to 5 important traits is a difficult task, however, the below list is a good start to understanding if you will enjoy and succeed at being an art therapist:
Patience – towards your client, yourself, and the process of therapy
Interpersonal skills – ability to listen and communicate (verbal and non-verbal)
Flexibility to individual client needs
Compassion – being compassionate will help guide your interactions with your client
Professional qualifications – understanding art therapy techniques and processes
We haven't included 'art skills' as part of the important traits. We've made a general assumption they are developed inside the process of developing professional qualifications. Having excellent art making skills is not essential to being a good art therapist. Above art making skills, the art therapist should possess a willingness and openness to creative expression in any form regardless of skill level.
It is important to note, that if the art therapist has limited art making skills, this can translate to a frustrating experience for the client if there is no understanding of how art materials work or if they inhibit creative expression. From this point of view, it's helpful for the art therapist to hold a solid understanding of the different properties of each art material, however, for our list, this skill may be listed among a top 10 traits of an art therapist.
SIGN UP below to download the FREE Summary of Psychotherapy Skills that art therapists should develop.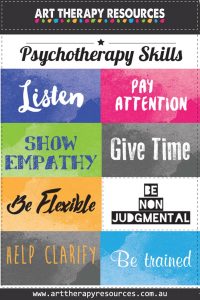 BUILD YOUR ART THERAPY REFERENCE MATERIALS:
Pin this image to your Pinterest board.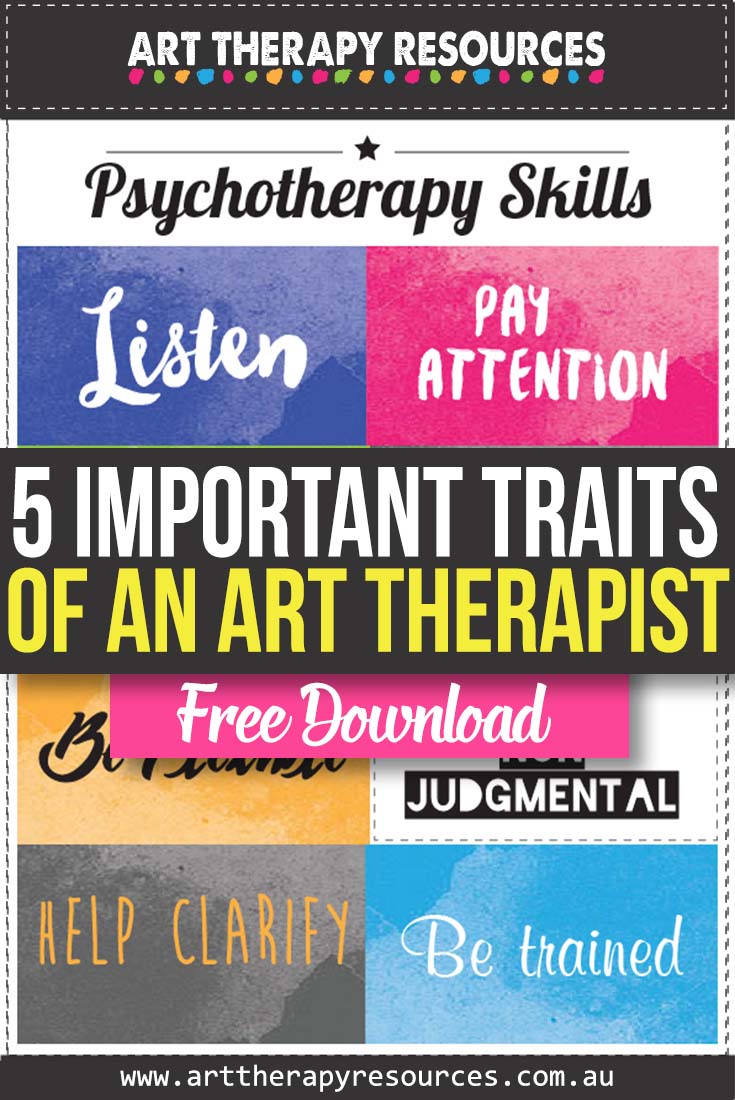 SHARE KNOWLEDGE & PASS IT ON:
If you've enjoyed this post, please share it on Facebook, Twitter, Pinterest. Thank you!